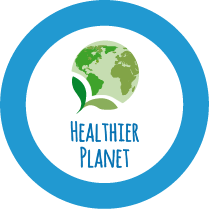 We firmly believe that business activity must be in sync with nature.
Ace Natural is a certified organic distributor by NOFA-NY according to the USDA/NOP standard.
Organic food is free of synthetic hormones, antibiotics, chemicals and GMOS.
By definition we offer foods that are harvested in a clean a safe manner by farmers and manufactures that operate using integrity and transparency as their main values.
How do we show love for our planet?
Close to 75% of our sales are from organic foods harvested without the use of any chemicals, added antibiotics, hormones or GMO's.
We use only bio-diesel fuel in our entire truck-fleet.
We use trucks with a state-of-the art hybrid-electric technology with the plan to convert all our trucks by the end of 2015.
We use 100% renewable energy to power our distribution center and offices.
We use energy saving equipment as much as possible.