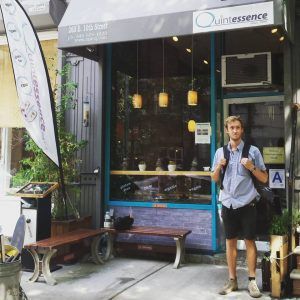 A few weeks ago, we were lucky enough to take a short trip to Ace customer Quintessence's flagship restaurant, a raw, gluten-free, vegan, organic eatery located in the East Village. Tucked away on a quiet block, the street seemed to still be waking as we ducked inside, already anticipating the innovative meal that was to come…and we were not disappointed. Every dish was fresher and more colorful than the last, and we found ourselves pestering our sweet waiter with all sorts of questions, most of which were no more than a discrete attempt to try to steal the recipes for ourselves. Whether or not you subscribe to a raw or vegan lifestyle, Quintessence–outfitted in pretty wooden furniture, a pastel color scheme, lovely little stone formations, and decorative succulents–lives up to its self description as an "oasis–a gourmet dining retreat that relaxes and rejuvenates beyond belief." After our delicious lunch, we had to track down Quintessence's co-founders Mun and Dan to get more info on this spot. Read on…
Can you tell us about the birth of Quintessence?
Mun: Back in 1996, my health was going downhill fast. I tried almost everything, but nothing was helping. In 1997, I was introduced to raw food by a colleague and was so fascinated by the healing concept of this raw vegan diet that I started researching and reading everything about it. [After trying] a 2-week cleansing program ingesting only raw, vegan, organic liquid foods, I noticed my complexion looked amazing and I had tons of energy as if I were back in my youth again. After a few of these fasts, something incredible happened! My "incurable" asthma was completely cured. It seemed like I had turned the clock back 10 years!
Dan: After many fasting and gall-bladder flushes, I also "woke up," eliminated life long allergies, brain fog, and fatigue…looking younger and fresher than ever! My question was: "Now, what do we eat?" After many disappointing experiences at raw food potlucks and parties, we could see there was a demand for a delicious raw food restaurant which sparked the beginning of Quintessence. The rest is history.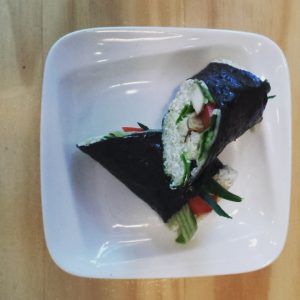 We started off with the creamy Shiso Shiitake Mayo Roll. Encased in a taut seaweed and bursting with cucumber, bell pepper, avocado, and luscious pearls of quinoa, the small plate was rich and surprisingly filling.
How would you describe Quintessence's food philosophy?
Mun: Many "health conscious" people are caught in the web of their particular dietary regime. They become so attached to the labels of "vegetarian," "vegan," "raw," etc. that they lose the ability to listen to what their body is telling them. The health of the physical body is very dependent on the health of the emotional body. Reconnecting to our physical body is the crucial first step in the healing process because it is the gateway to reconnect to our emotions, which allow our deep emotional wounds to surface…this then allows true, authentic, and sustainable healing of the totality of our bodies.
Dan: Foods that are as close to untouched and unaltered as possible have the most healing benefits. At Quintessence, we use organic, natural, and unprocessed ingredients to create foods what we called "real food," which has nothing fake, artificial, or extensively processed.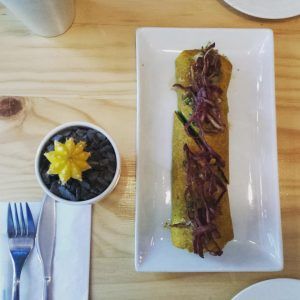 Our favorite dish was undoubtedly the soft and creamy Savory Crepe, an artfully arranged roll bursting with scallion cream cheese (our new favorite!), baby spinach, tomato, sprouts, avocado, and sweet caramelized onions.
Dan, you were working as a contractor, musician, recording studio owner, and engineer/producer before you met Mun and began experimenting with raw food preparation. What were the early days of your cooking career like? Are there certain aspects of your former jobs that have served you well in the kitchen?
Dan: I have always been a "producer" of sorts, meaning I have the ability to see the end goal and then put the pieces together to achieve it. Whether construction, music, or food I can put the pieces together to get what I want. As for my construction past, I was able to build custom furniture, counters, and kitchen workspaces for all of our restaurants. I also was able to design, layout, and draft plans for our restaurants. This saved us a ton of money on contractors especially with our first location, which we built from scratch ourselves. I now do consulting and design, recipe development, training…all over the world from Japan to Thailand, Turkey, Spain, Ecuador, and more.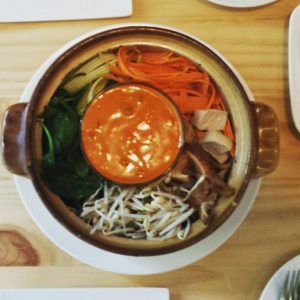 Quintessence's signature dish, the Bibimbap, tasted similar to the traditionally meaty Bibimbaps we've tried, but this one was chock full of organic shiitake mushrooms, mung bean sprouts, and dried cubes of "Fofu." The gingery Korean red chili pepper sauce (an invention of Mun's) truly made the dish.
You two are responsible for "Fofu," a unique tofu-like creation which we were lucky enough to try in our Bibimbap. Without giving away the recipe, can you tell us a bit about it?
Dan: Contrary to popular beliefs, soy is not a health product. More recent studies have proven that soy is not a food you want to eat much of–or even at all. However, fermented or cultured soy like soy sauce, miso, and tempeh do not carry the same issues. Tofu was almost impossible to replicate raw given its unique texture until we discovered yet another unique natural ingredient…a seaweed called Irish Moss. Blending Irish Moss with other components rendered the perfect replacement. Our "Fofu"–or what many call "better than Tofu"–opened a whole new window of creativities!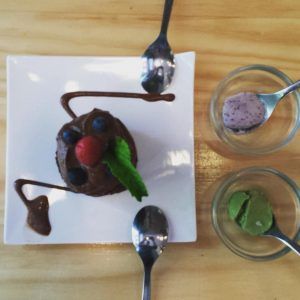 The Chocolate Lava Cake–made with dates, coconut, pecans, and avocado–was surprisingly light. Its macaroon-like cup was filled with a cool, rich cream, and the entire ensemble was topped with fresh berries and mint. We also loved our little tastes of Green Tea and Blueberry Ice Cream, which were oh-so-fruity and sweet!
You're known for having invented Chia Pudding 15 years ago, when Quintessence first opened. How did you come up with the idea? Have you been surprised by how popular chia has since become?
Mun: Back in 2003, most people had no clue what a chia seed was. I remembered I used to use an old commercial, the Chia Pet, as reference just to give them an idea that this is not something foreign and out of the blue!
Dan: I started playing with it and noticed its ability to absorb whatever liquid it was soaked in and take on the flavor of that liquid to form jelly-like pearls. My first inspiration was to recreate a raw version of Tapioca Pudding or Rice Pudding. Using nut milk, I created the first Chia Pudding. Since then, I have been using it in salad dressings, pies, and in my mock "caviar"…all with Chia Seeds. To this day no one has taken it this far!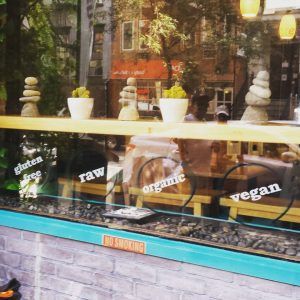 Having had a health food restaurant in NYC for 15 years now, you have seen the movement really take off. What has it been like watching this happen? How has Quintessence been affected as a result?
Dan: Back in 1999, Quintessence was the only raw food restaurant in NY. Our 15 years of success came from our ability to create–and keep creating–raw foods that are tasty and satisfying to anyone, whether they are carnivores or herbivores. While others were making unrecognizable creations with names like Mango Wild Rice Supreme, we made Lasagna, Pizza, Burritos, Falafel, Burgers, Blueberry Pie. No mystery at all to our diners.
It's been a rough and challenging ride, yet very satisfying and fulfilling, especially when we get feedback from customers who have traveled around the world tasting all kinds of raw and vegetarian food, and are always quick to say that we are by far the best and nothing they have tried compares. Our unique, creative, and innovative cuisine continues to be one, two, and even three steps ahead of every one else! I can proudly say Quintessence is the official flagship of the new millennium's raw vegan restaurant.
Thank you, Mun and Dan!
Quintessence is located at 263 East 10th St., and is an easy walk from the L to 1st ave., the 6 to Astor Place, or the N/R to 8th St. Click here to view Quintessence's detailed menu and here to follow them on Instagram!