July 22, 2017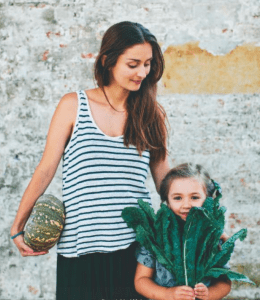 Happy end-of-July! While certain days this summer are proving too hot to turn on the oven, that doesn't mean you can't cool off by putting your feet up, sipping an iced drink, leafing through a new cookbook, and planning for the day when you can once again try delicious recipes. With that in mind, we thought we'd treat you to a quick round-up of some recently published healthy food cookbooks–and remind you of a few golden oldies from Ace customers. Enjoy…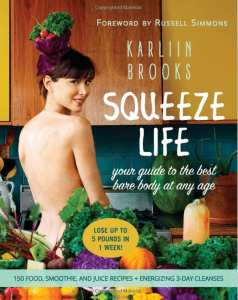 Squeeze Life: Your Guide to the Best Bare Body at Any Age by Karlin Brooks features >100 "nutrient-packed, lip-smacking" juice recipes as well as snack favorites like "Jalapeño (Dirty) POPS," "I Want Candy," and "Raspberry-Chia Fruit Roll Up." This non-diet detox book features recipes that are 100% raw/vegan and focuses on implementing new habits that will help you live your life at your happiest and healthiest. The book has received rave reviews; as David "Avocado" Wolfe, co-developer of the NutriBullet says, Squeeze Life is packed with "brilliant and dazzling images" and Karlin leaves "no stone fruit left unturned." Buy it here!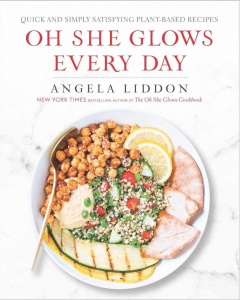 Like her debut cookbook, a NYT bestseller, Angela Liddon's latest Oh She Glows Everyday Day: Quick and Simply Satisfying Plant-based Recipes features more of what she's famous for: "irresistible and foolproof recipes have become the gold standard for plant-based cooking." This cookbook acknowledges the fact that as much as we want to feed ourselves + our loved ones healthy food, sometimes we don't have all day to toil in the kitchen. With this in mind, Liddon delivers over 150 delicious family-friendly recipes, including Oh Em Gee Veggie Burgers, Fusilli Lentil-Mushroom Bolognese, and Ultimate Flourless Brownies). Buy it here.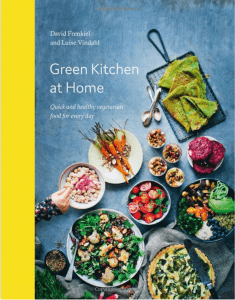 David Frankiel and Luise Vindahl, the amazing husband/wife team behind the blog Green Kitchen Stories, have managed to do it again with their latest awe-inspiring cookbook. Published on March 2nd of this year, Green Kitchen At Home: Quick and Healthy Vegetarian Food for Every Day features "modern and inspiring vegetarian, vegan, and gluten-free recipes," accompanied by the gorgeous photography that has become GKS's trademark. Dishes such as Lemon Ricotta Lasagne, Rice Crêpe Batter, Cauli "Fish" and Chips, and Lazy Lentils will leave you itching to add more veggies to your diet. We also love that this book offers something new: shortcuts to make recipes easier, such as "using store-bought pesto or canned beans if you're time-poor, or how various vegetables or other ingredients can be substituted." Buy it here.
+ A few of our other (less recent but just as delicious) faves: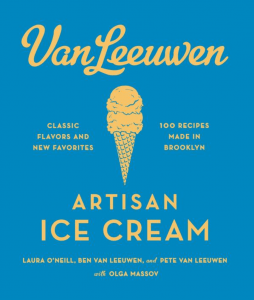 Van Leeuwen Artisan Ice Cream by Laura O'Neill and Benjamin Van Leeuwen brings the desserts from this NYC staple (self-described as a "retro sweet shop featuring gourmet ice cream made from innovative ingredients") to life. The book "includes ice cream recipes for every palate and season, from beloved favorites like Vanilla to adventurous treats inspired by a host of international culinary influences, such as Masala Chai with Black Peppercorns and Apple Crumble with Calvados and Crème Fraîche." Buy it here.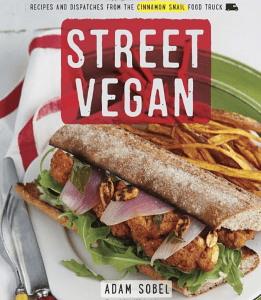 In his cookbook, Street Vegan, Cinnamon Snail chef Adam Sobel "brings his food straight to your kitchen, along with stories of the challenges of working on a food truck while still finding ways to infuse food with imagination, love, and a pinch of perspective." Featured recipes include: Fresh Fig Pancakes, Poached Pear-Stuffed French Toast, Vanilla Sesame Milk, Brown Sugar-Bourbon Glazed Seitan, Horseradish Mashed Potatoes, Vanilla Bourbon Crème Brulée Donuts, and much more. Buy it here.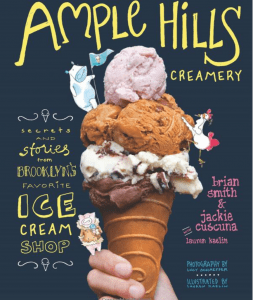 Ample Hills Creamery: Secrets and Stories from Brooklyn's Favorite Ice Cream Shop by Brian Smith and Jackie Cuscuna is a mouthwatering romp through the unique and unforgettable flavors offered by the innovative Brooklyn-born ice cream empire, Ample Hills. Filled with personal beautiful hand-drawn illustrations by Lauren Kaelin and featuring: "recipes for the most sought-after flavors—including Salted Crack Caramel, Ooey Gooey, and the Munchies—the book is organized by mood. Are you feeling nostalgic? Try a scoop of Black Cow Float. Or maybe you need a drink? Daddy's Sundae, made with bourbon, will set you right." Buy it here.
Thanks for accompanying us on our romp through the wonderful world of cookbooks. We hope you've found it helpful and that these awesome publications inspire you to create some new healthy concoctions. Best of luck!
Images courtesy of Green Kitchen Stories, The Squeeze Life, Oh She Glows, Van Leeuwen Ice Cream, Street Vegan + Ample Hills