September 25, 2018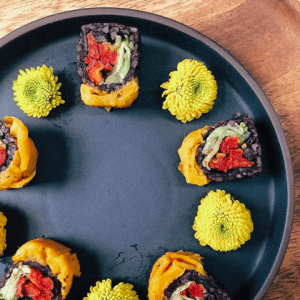 Last Tuesday, we ventured to Beyond Sushi, the "chef-driven, vegan sushi concept at the forefront of the healthy vegan food movement" AKA our favorite veg-friendly sushi spot in the city. If you've been following along for a while now, you may remember when we stopped by their original Union Square eatery and devoured copious amounts of vegetarian and vegan sushi. (You can relive the whole experience here.)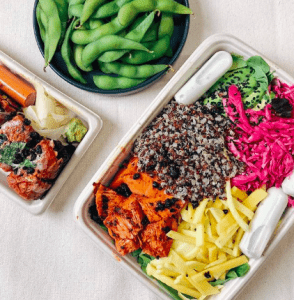 This time, we were enticed by rumors of an exclusive new dinner menu, available only at their 134 West 37th St. location. When we arrived, the restaurant was dimly lit and we were shown to a cozy table where the new menu awaited. Sure enough, sushi listings were on the back but the front showed a selection of original, mouthwatering concoctions.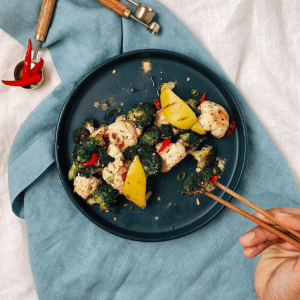 Starters included the Portobello Carpaccio (crafted with caper berries, charred pickled onion, king oyster mushroom chips, and more), Pâté Spread (made from cashews and served with housemade crispy seeded flatbread), and the Scorched Broccoli & Cauliflower (seasoned with preserved lemon, red chilies, charred sesame, and more).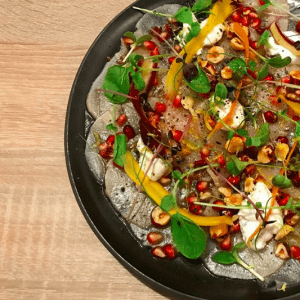 We started by ordering a main, the Lava Salt-Roasted Turnip. The platter was decked out with thinly sliced, nearly translucent turnip, which was then garnished with sweet maple-crusted hazelnuts, small sprigs of kale, mint, and cilantro, and pomegranate seeds, which lent a nice crunch.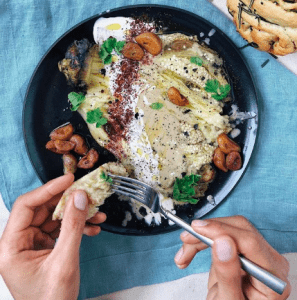 Although we didn't order it, we also eyed the Fire-roasted Eggplant, which is made with tahini, roasted garlic, sumac, and lemon juice, and then served alongside rosemary garlic planter bread, for dipping. 

Beyond Sushi's new menu includes a smattering of dips (think Fava Bean, Butternut Squash, and Chickpea), noodle soups (Coconut Curry Ramen and Chili Mushroom Ramen), as well as an array of veggie dumplings (some stuffed with charred cabbage, others with mushrooms, squash, and more).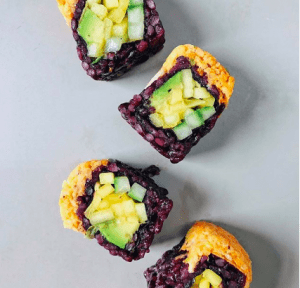 While it may not have been very original of us, we rounded our meal out by ordering two sushi rolls because — well, how could we not? We devoured the Spicy Mang Roll (a symphony of black rice, avocado, mango, and spicy veggies) and the Pickle Me Roll (made with 4-grain rice, burdock root, pickled daikon, and avocado). Both were creamy, a little crunchy, and utterly delicious.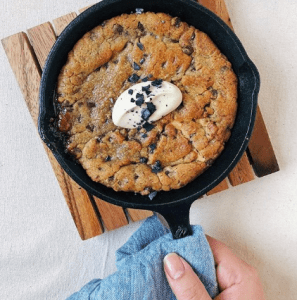 While we were too full for dessert, we did pick out exactly what we would order during our next visit: the Chef's Stuffed Cookie, which is filled with creamy peanut butter and caramel, and then topped with lemon cashew cream and flaky black lava salt.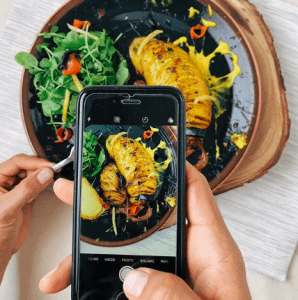 Beyond Sushi, whose motto is "Eat clean and leave a lasting impact on our planet," now boasts 6 Manhattan locations and it's not hard to see why. We suggest checking out their dinner menu at 134 West 37th St. but if you find yourself near one of their other spots, drop in and grab some rolls. You won't regret it!
Photos: Ace Natural + @beyondsushi