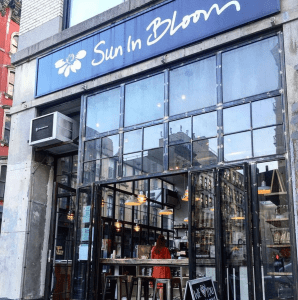 If you've heard that it never rains at Ace customer Sun in Bloom, you'd be correct! We headed over to their Tribeca location on a gorgeous Wednesday and loved what we found–the glass doors were open to the glorious breeze and there were customers sitting on benches by the open windows, happily munching away on various vegan creations.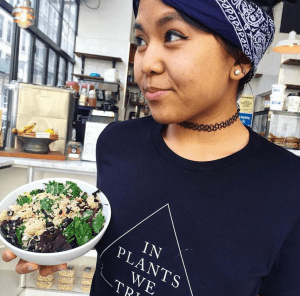 Sun in Bloom is a long-standing Ace customer headed by Aimee Follette, who discovered she had celiac disease and consequently decided to follow a completely raw diet for multiple years. "It's all about balance," she told Tribeca Citizen. "Sun in Bloom invited people into a lifestyle of balance, recognizing the power of food to heal the body, the connection food and thought. Our slogan is 'Food for happy thought.' If you're nourishing your body, you're nourishing your thoughts."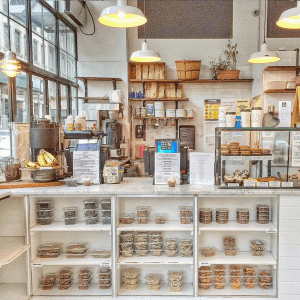 Aimee has certainly achieved her goal; Sun In Bloom is widely known for its "accessible and delicious 'clean' and gluten-free dishes." All of the food they serve is made on-site in the same kosher kitchen where they craft the gluten-free vegan baked goods and raw desserts for which they're famous.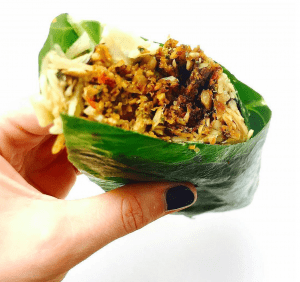 So what did we order? Well…we started out with a fresh-pressed ginger shot which was so potent that it actually conjured tears—and left us feeling refreshed, cleansed, and energized. We followed our shot with a Shitake Bacon BLT: a collard green wrap filled with shiitake bacon, almond mayo, juicy roasted tomato, and crisp romaine. The result was fresh and light, with thick chunks of sweet mushrooms and juice that dripped down our chins.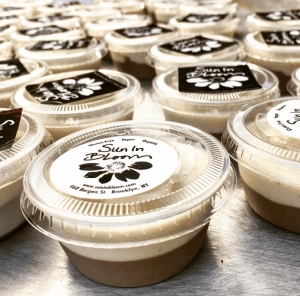 Upon leaving, we couldn't help ourselves—we had to grab something for breakfast the next morning. It was a hard decision but we eventually decided upon the Granola Delight, bursting with live granola and coconut kefir, then topped with seasonal fruit. Rich and creamy but not too sweet, it proved to be the perfect pre-work on-the-go breakfast.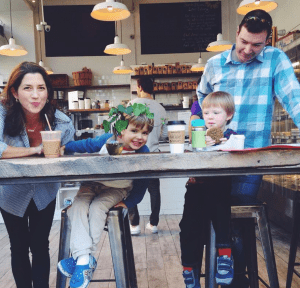 Sun In Bloom's Tribeca location serves mostly takeaway food but if you live in Brooklyn, we also suggest stopping by their more formal location on Bergen St., which offers a full dinner menu and lots of seating. We had a blast at Sun In Bloom and can confidently report that any cravings we had for dairy, gluten, or meat products were rendered obsolete by our meal. Thank you, Sun In Bloom!
Images via @suninbloom