Ask Heidi Matonis, founder of Heidi's Real Food, why she started her business and she'll readily admit that it wasn't a lifelong plan: "I began my vegan food business as part of a mid-life crisis, a challenge, a dare to myself. I knew nothing about the food business. I simply liked to cook and used it as a creative expression of love for my family." Before starting Heidi's Real Food, she made t-shirts that helped raise money for non-profits and, later, worked for a professional artist."Essentially though," says Heidi, "I was a very pampered Greenwich housewife for 20 years. I took a lot of French lessons, painting, fund raising, horseback riding, hanging out with my kids. I had a great life!"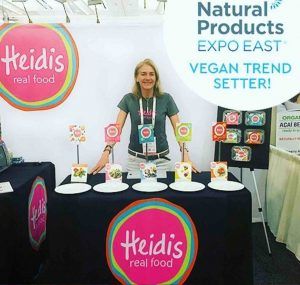 Eventually, Heidi's kids got older and she began to think about what she wanted to do next with her newfound time…and Heidi's Real Food was born. Now, Heidi is at the helm of her company, a certified woman-owned business that sells four types of vegan "Meatless Meatballs," all crafted locally, in Brooklyn. "Honestly," says Heidi, "I really had no idea what I was getting into. Now I go the the 'factory,' I tape boxes, I drive places I never thought I'd have any reason to go, I trudge down the streets of Manhattan with my cooler and oven with a bungee cord holding it on. I have probably done 1,000 demos standing in a Whole Foods. All that being said, it has grown on me."
So what kind of meatballs does Heidi's Real Food offer? First up are their Barbados Meatballs (made with kidney beans, pumpkin seeds, and mango), followed by Persian Meatballs (described as "better than falafel" with nutty chick peas, spinach, parsley, and spice), and Shanghai Meatballs (crafted with organic edamame, peanut, scallion, and miso). Ace distributes Heidi's Italian Meatballs (think nutty bulgur wheat, sun-dried tomatoes, and mushrooms), which pack quite a protein-y punch (7 grams), and are soy-free, as well.

Now, Heidi says the most rewarding part of her major life change is having her kids see her grind it out: "My husband and I grew up in dysfunctional, economically unstable homes, but we have built a very idyllic nest together. My husband knew I had grit–I worked 7 days a week and trained for triathlons when I met him. Anyway, my kids did not know or see I had grit. I feel I have been a great role model. I am pretty determined to make this work and show my kids the adage, 'Hard work pays off.'"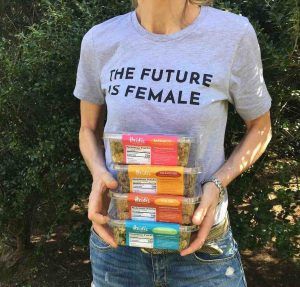 Heidi's hard work is certainly paying off but this small diversity vendor isn't ready to coast on her success quite yet: "My journey is not done: I have not summited…It's a wonderful start but from where I stand, I can see mountains beyond mountains that need to be climbed and it would all still be too much but I also see the camp of stalwart friends that nurtured and guided me. Because they all seem ready to throw me a line and lend me a hand, I will keep climbing."
Thank you for sharing, Heidi!
If you want to try "all the tastes of Italy rolled into a healthy ball" a.k.a. Heidi's Italian Meatless Meatballs, we're currently running a promotion: buy one 9 lb. case and get one free with your first order before September 4th! Click here for more. Heidi's Real Food products are distributed exclusively by Ace.
Images courtesy of @heidisrealfood