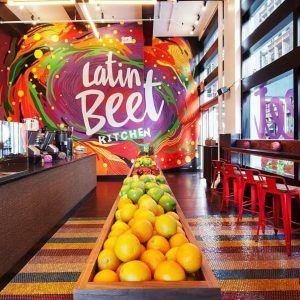 Last Friday, we headed over to the Flatiron district, and stopped by Ace customer Latin Beet Kitchen (not to be confused with Ace customer The Little Beet) for an early–and exceedingly delicious–dinner.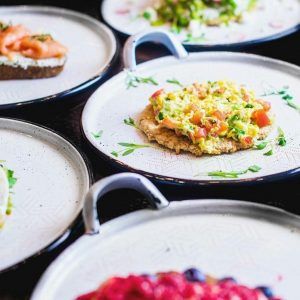 Self-described as "the cure for the common deli," Latin Beet Kitchen is the 2nd culinary venture of the family behind the fancier restaurant, Raymi. As they write on their ultra-colorful website, "After we opened Raymi in 2012, it quickly became a dinner destination for its ceviche bar and unique Peruvian platos full of Chinese, Japanese and Spanish influences. Felipe and Jaime are executive chefs, Roger handles the business side and our father, Armin, adds the familia touch that turns customers into regulars. But the nighttime hotspot sat empty during the day and both the space and staff felt hungry to be more. So we rethought and repurposed part of Raymi and gave it the most important thing you can have in this business — a brother."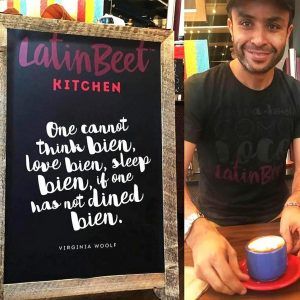 Today, the Latin Beet Kitchen is a hot spot for on-the-go New Yorkers who love Latin soul food and want to fuel themselves with "food that's both nutritious and delicious, in local, seasonal and humanely raised produce and proteins." As their motto, credited to the one and only Virginia Woolf and splashed across the restaurant and their website, reads: "One Cannot Think Bien, Love Bien, Sleep Bien, If One Has Not Dined Bien."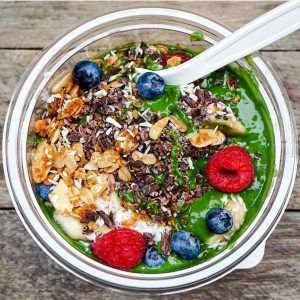 Latin Beet's menu is bursting with a wide array of healthy offerings, from Huevos Verdes (piled high with avocado, egg, and asparagus) to arepas (we were drooling over the "La Lox Arepa," made with lox, goat cheese, and tomatoes) to their popular Green Berry Bowl (composed of almond mylk, spinach, avocado, peaches, and more).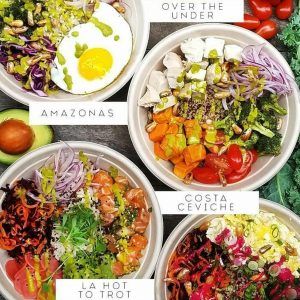 If you choose to go later in the day, you would be amiss not to order the "Always Avail-a-Bowls," customizable bowls that inspired eaters can fill with delicious options like zucchini noodles and tricolor quinoa, Anticucho steak and salmon ceviche, purple cabbage slaw, avocado, and crispy corn cancha, then topped with Latin Beet's own sauces. You can also order from the restaurant's list of classic bowls, including the "Amazonas" (which boasts their organic chicken) or the "Costa Ceviche" (made with brown rice and salmon ceviche).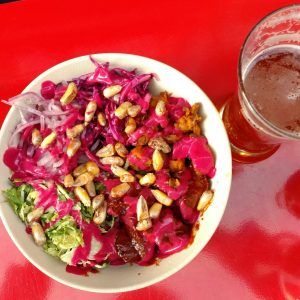 So what did we order? In the beginning, it was a struggle not to stuff ourselves with the delicious bowls of corn our waiter brought out for us to munch on as we waited. As anyone who has been to a bar in Peru can tell you, this corn is the stuff that dreams are made of: salty and crunchy, light and crispy, it somehow manages to be more flavorful–and addictive–than popcorn. Luckily, the wait was not long and shortly after our sweet waiter asked if we'd like a 3rd bowl of the corn (no–but yes…) our food arrived: the "Latin Beet Bowl," which we ordered with brown rice, was topped with sweet potatoes, purple cabbage slaw, crispy quinoa, seasonal veggies, and a hearty helping of their delicious steak.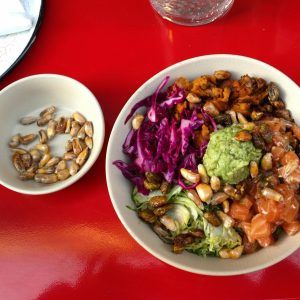 We also tried a custom-made bowl: a base of zuchinni noodles, stacked with salmon ceviche, warm roasted sweet potatoes, Brussels sprouts, avocado, purple cabbage slaw, and a slew of other delicious toppings. Both of the bowls were fresh and left us feeling good–full but not over-full, with more than enough fuel to conquer the next part of our evening.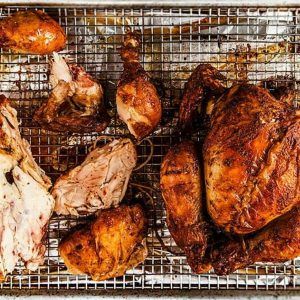 One of the many menu items that beckoned but that we didn't get to try was their organic, free range, Peruvian rotisserie chicken. The bird can be ordered as a "half" or as a "whole" and, as the cooks describe, is "brined overnight and marinated in a blend of fermented black beans, aji amarillo, and flavorful spices. From there, we slow roast to create one deliciously juicy pollo a la brasa." Yum!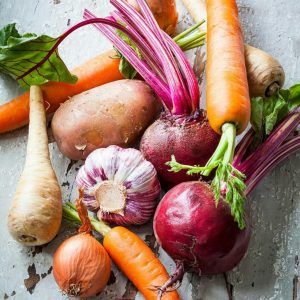 As Latin Beet Kitchen owner Roger Torres is quoted as saying, "We found a need to have a Latino inspired restaurant that was nutritious, healthy and delicious. We believe that restaurants and chefs have a social responsibility with customers and this is why we care so much about the quality of the ingredients that we use and how our food is prepared…I am always amazed with Peruvian cuisine because of its huge diversity; the native, Japanese, Chinese and Spanish influences in addition to its biodiversity, sea, mountains and jungle." And what of working with his family? "I love it. We complement each other. I am not going to deny that sometimes it is difficult because we have our differences in many topics but at the end what keep us together is the family, brotherhood and passion for what we do which unify us in one common goal."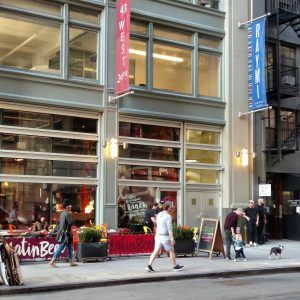 If you find yourself in the Flatiron district anytime soon, we heartily recommend stopping by Latin Beet Kitchen and enjoying a meal. If you're throwing a party, Latin Beet also offers catering services. If you want to try their delicious food but don't have time to go there in person, you're in luck–Latin Beet's food can be ordered online through ChowNow! For more, visit their website today.
Images: Ace Natural + @latinbeet