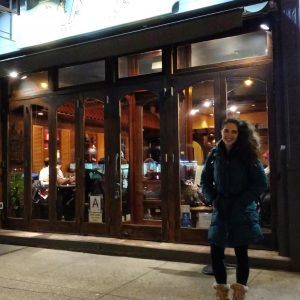 On a chilly winter night not too long ago, we sought refuge in the warm embrace of Mana Restaurant, an Ace customer located on the Upper West Side. The self-described "calm oasis for organic, macrobiotic, vegetarian and vegan cuisine" has been serving local, sustainable food to New Yorkers since 1989–but that wasn't always owner Sung Hee Lee's plan.
When Lee's mother first sent her to the United States in the 1970's, it was to attend NYU to study English as a second language. On a lunch break one day, she was walking through the village and came upon a little restaurant named Don. In the window, Lee saw a woman with long hair and bangs–just like Lee–lighting candles at a table. "That's me," thought the young Lee, who proceeded to eat lunch at Don every day until they offered her a waitressing job. She immediately loved it. "I was so excited to be a waitress and bring food to people. I was like Peter Pan flying around the restaurant dining room, taking care of the customers. I didn't tell my mother because she had paid money to send me to America to be a teacher. But today she is proud of me."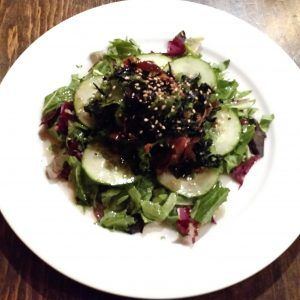 It was at Lee's next waitressing job–working for a natural food restaurant that focused on animal product-free fare–that she learned there was a name for her eating habits: vegetarianism. In 1981, Lee began working as a waitress for the macrobiotic-friendly restaurant Souen–another Ace customer–and was eventually asked to take over their Upper West Side location. In 1989, she changed the restaurant's name to Mana and became the owner. "It's not about owning a restaurant for me," says Lee. "It's about the spark in a customer's eye when I bring out their food. It's a Christmas in July feeling. When I'm having a bad day, one of the waiters will usually suggest I  go wait on a table and then I always feel better. I wish I could cook for people all day for free and people could just come and eat. That connection is a bright spot in my life."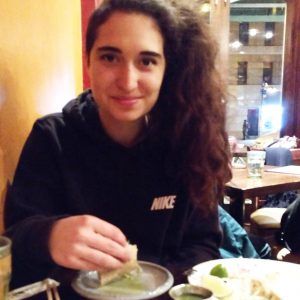 Lee's warm, open attitude has clearly permeated every last facet of the restaurant. On the night we visited, Mana was packed with people who were clearly glad to be there; families toting cute babies, couples of all ages, and even a few groups of friends chatted animatedly at their tables, slurping down their food or perusing menus. We hunkered down at a table next to one of the many brightly colored walls and tried to decide which of the delicious dishes to try.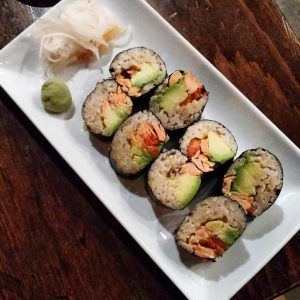 For our appetizer, we ordered the Seaweed Medley, a crisp salad composed of hijiki, wakame, aotosaka, and akatosaka heaped atop a few crunchy slices of cucumber, and doused with sesame vinaigrette. The result was otherworldly, most likely due to its freshness and the variety of seaweed. (This dish is also one of Lee's favorites: "I could eat it every day," she says. "But I can't just eat that. I need to have a full meal!") Next up was the Wild Salmon & Avocado Sushi Roll, made with creamy brown rice. The salmon was cooked to perfection–still moist–and the carrot slivers boasted a lovely crunch. We both agreed that the roll was gone way too soon.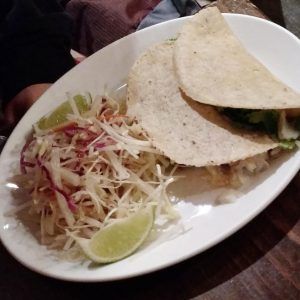 Unable to resist tacos of any sort, we ordered the Fish Taco next. Made with roasted codfish, topped with green tomatillo salsa, and wrapped in an organic sprouted corn tortilla, it was undeniably juicy and had a nice crunch. Given how delicious the salmon and codfish were, we weren't surprised to learn that Mana uses wild-caught sustainable seafood in all their dishes.
After paying, we lingered over our empty plates, enjoying the boisterous atmosphere and unwilling to face the cold that awaited us outside. Eventually, we gathered our bags and bid our sweet waiter goodnight, vowing to come back for a sample of their brunch menu soon.
Thank you for a delicious meal, Lee!
Images: Ace Natural