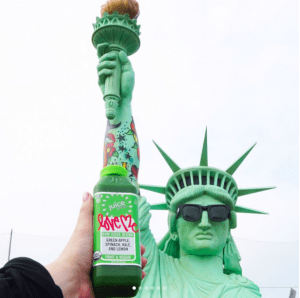 Hi friends! As you know, Juice Press has been a loyal Ace customer for years and we're so excited to report that we recently had the chance to taste a bunch of their new products. From cold-pressed, organic juices to guilt-free cookies and delicious mini chocolate bars, JP knows how to make healthy food DELICIOUS. Read on for the full run-down of their newest treats…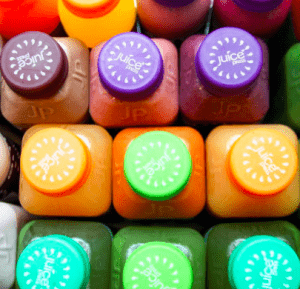 We've always been a fan of JP's juices (see our cleanse review) but that doesn't mean there isn't room in our hearts for more juice love. JP's newest flavors—Watermelon, I Am Turmeric, and Green Day—are all super different and equally yummy.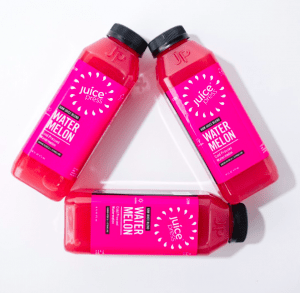 Watermelon (which boasts only two ingredients: watermelon and L. Bulgaricus) is touted as a terrific post-workout drink and we couldn't agree more. Light and fruity, you'll be hard-pressed (sorry, we couldn't help it…) to find something more refreshing!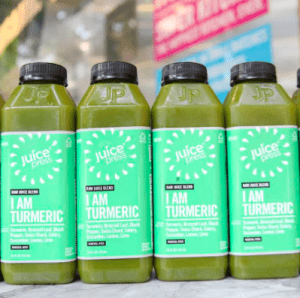 I Am Turmeric, the juice formerly known as Turmeric with Greens, packs a crazy-powerful punch. Stuffed with anti-inflammatory turmeric, broccoli leaf, romaine, Swiss chard, cucumber, lime, lemon, and black pepper, this is the ultimate juice if you're looking to give your body a huge boost.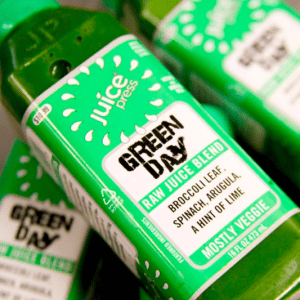 The other new veggie juice we tried was the low-sugar Green Day, made with iron-rich spinach, nutrient-dense broccoli and arugula, plus a dash of lime juice. We found it to be a perfect mid-afternoon snack.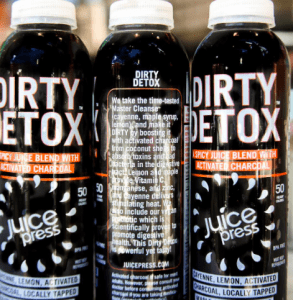 We also tried Dirty Detox, a tangy, spicy, and very light juice that uses a recipe adapted from the Master Cleanse (think cayenne, lemon, and maple syrup). What makes it dirty? you ask. The geniuses at Juice Press have added activated charcoal from coconut shells to absorb and remove toxins and bad bacteria from your body. A special note from Juice Press: "Activated charcoal is safe for most adults. However, please consult your doctor before consuming activated charcoal if you are taking medications (especially antibiotics), pregnant or breastfeeding, or experience intestinal/GI problems."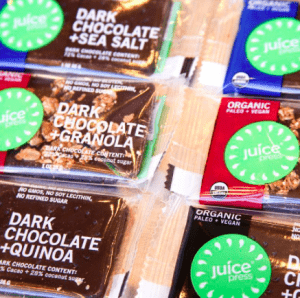 Juice Press doesn't only make kickass juice. We were totally awed by the three chocolate bars we tried: Dark Chocolate + Granola, Dark Chocolate + Quinoa, and Dark Chocolate + Sea Salt. The bars were not only the perfect size for a snack but we also adored that they came combined with the things we would usually have to rummage in our cupboard for (although we never would have thought to try chocolate with quinoa, which was a stroke of unabridged genius).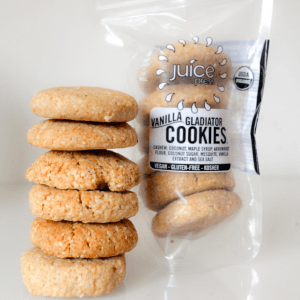 Lastly, we adored JP's organic, dairy-free, plant-based, gluten-free Vanilla Gladiator Cookies. Lest our description leads you to think that they are lacking, rest assured they are not; described as "clean food for the people," these bites are packed with all things healthy including cashews, coconut, arrowroot flour, and more. Plus, they're sweetened naturally with coconut sugar, vanilla, and maple syrup.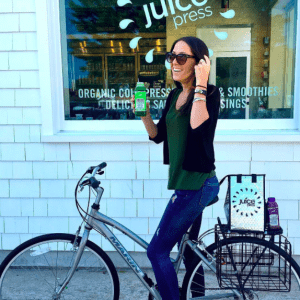 We had a fantastic time sampling all of JP's latest products and can't wait for you to try them, as well. Let us know which are your favorites in the comments section below. Thanks for a delicious day, Juice Press!
Photos courtesy of @juicepress