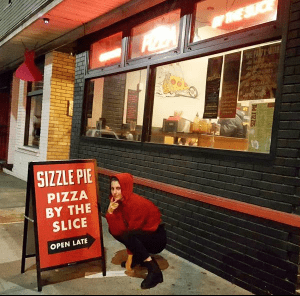 "Death to false pizza" is Ace customer Sizzle Pie's motto, although "death to pizza" might be more accurate, as it pretty much sums up what happens when anyone gets their hands on one of Sizzle's pies. And when we say anyone, we mean anyone–this unique pizza joint serves vegan, vegetarian, and meat pies and even has a create-your-own option where diners can choose a gluten-free crust.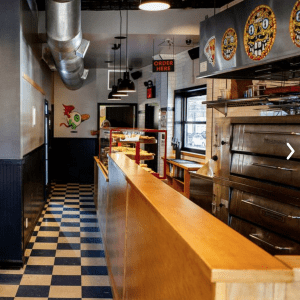 We stopped by one of their two Brooklyn locations (this one on Graham Avenue) last Tuesday night to try the famous pizza for ourselves and we were not disappointed.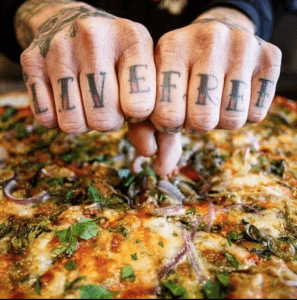 One of the best things about Sizzle Pie–besides their amazing food–is the fact that they really go all in with their heavy metal theme.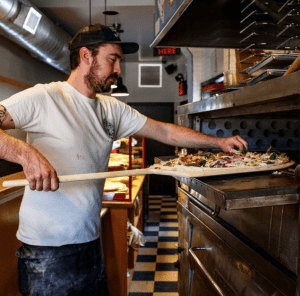 The shop was not only decorated accordingly but the pizzas even had names like Vegan Angel of Doom, Evil Never Dies, and Slaughter of the Soil, the last of which we ordered because we were seriously craving some veggies.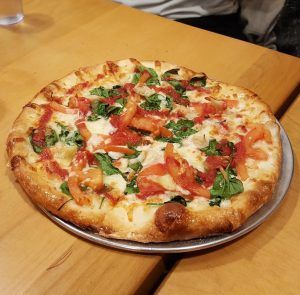 Our 12″ pie came topped with spinach, tomato, artichoke hearts, and dollops of red sauce and was so good it was gone in mere minutes.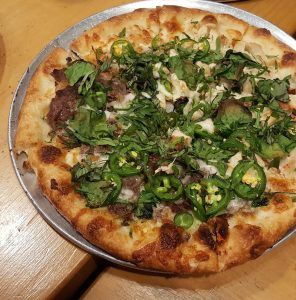 Wanting to try a meat pie we also ordered a custom one inspired by their seasonal offering, the Banh Scott. Our version substituted half steak/half chicken for the pulled pork and sported arugula instead of cabbage but stayed true to the original when it came to the toppings: jalapeños, olive oil, and a spiral of Sriracha sauce. Yum!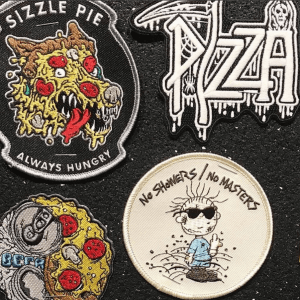 We took our time eating and enjoying the ambience as well as our fellow diners–a lot of Brooklynites (at one point the line wrapped all the way past the pizza display case and into the seating area) who seemed pretty serious about their love for Sizzle's pies.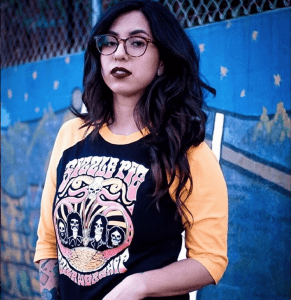 When we finally gathered the courage to mosey out into the cold, we got a little distracted by some of their awesome merch, which includes a "death awaits" coffin pizza box (currently + unfortunately sold out), pizza party flip flops, a "Get Sliced Up" snapback hat, plus a bunch of similarly themed t-shirts, patches, and more.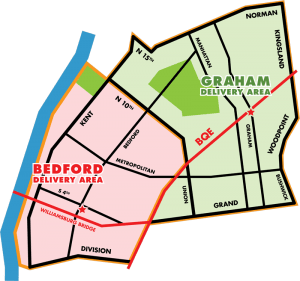 If you love the idea of Sizzle but don't think you have time to get over there in the next few weeks, we have great news: Sizzle delivers! If you love the idea of Sizzle but don't live in NY, never fear: in addition to their 2 Brooklyn spots, Sizzle Pie also has 3 locations on the west coast: Portland, Eugene, and Seattle. 
Pretty much, there's no excuse not to try this scrumptious pizza so hop on the train, hop on the phone, or book a flight and get your fix of vegan, vegetarian, gluten-free, or meat-topped heavy metal pizza today. Enjoy!
Images: Ace Natural + Sizzle Pie