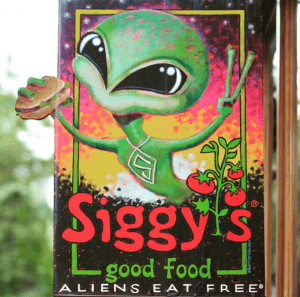 Last Thursday, we were lured into Siggy's Good Food by their unusual/amazing tag line "Aliens Eat Free." We quickly discovered, however, that the advertising is a little misleading–what we love the most about Siggy's is that they cater to all humans with healthy organic options for omnivores, vegetarians, vegans, and gluten-free eaters.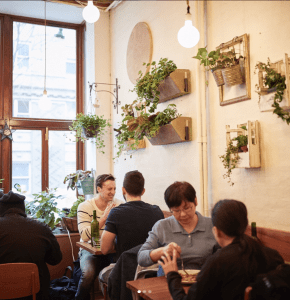 Our expectations were high, partly due to the fact that Siggy's Yelp reviews are rife with comments like "This place kinda rocked my world" and "Yeehaw, this place hits all the high notes." Siggy's website added to our anticipation, writing "Pretty much anyone with a conscience will find a favorite." Yet we found that once we tried their food we not only agreed, we didn't even care that as non-aliens we'd have to pay–it was just that good!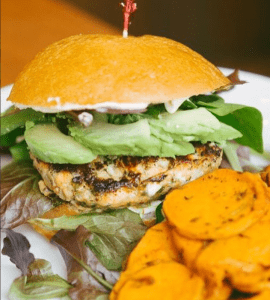 So what's on this menu? you may be wondering. It was hard to choose from the large array of smoothies, salads, sandwiches and wraps, burgers, and bowls, but we finally settled on a Magic Burger, made with turkey from a local farm, fresh herbs and seasonings, greens, tomatoes, and onions. Diners can choose from a large selection of extra sides, including grilled baby artichokes, herb roasted potatoes, seared tofu squares, and more. The burger, served on a perfectly toasted bun, was juicy and delicious and fully satisfying.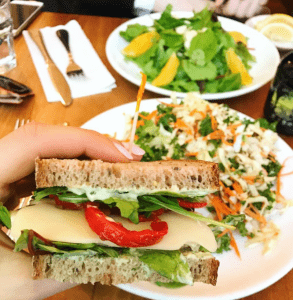 We also ordered the Smoked Turkey Sub (can you see a theme here?) which was bursting with Swiss cheese, roasted peppers, greens, and a perfectly salty Kalamata olive paste that tied the whole deal together. All of Siggy's "Good Sandwiches" come with a choice of bread and we went with the multi-grain, although diners can also ask for ciabatta or a whole wheat or gluten-free wrap.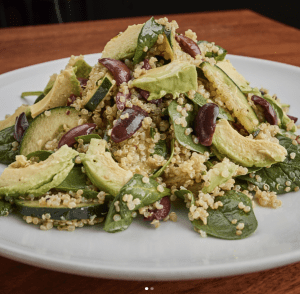 We didn't get to try any of the salads this time, but we're definitely going to return for the Greek Style Quinoa Avocado Salad, which is filled with cucumbers, Kalamata olives, cracked fresh peppercorn, and baby greens–all tossed with a healthy serving of quinoa and topped with lemon vinaigrette.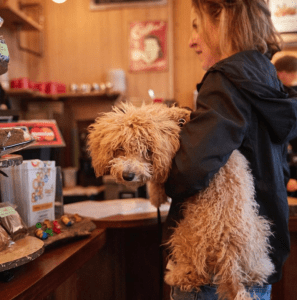 After bidding our extremely sweet and attentive waiter goodnight, we left the restaurant with full hearts and bellies.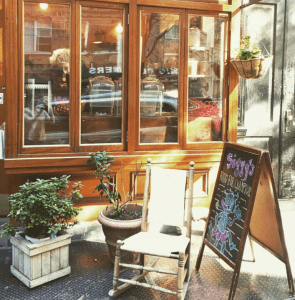 Thanks for a great meal, Siggy's!
Images via Instagram: @siggysgoodfood, @infatuation_nyc, @thellamalab + @travel.deeper