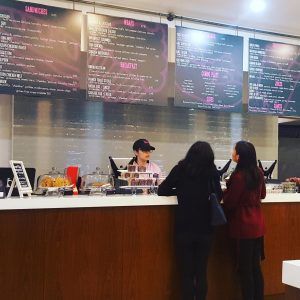 Last Thursday, in an effort to save what was otherwise a damp and dreary day, we trekked over to the financial district–100 Maiden Lane, specifically. What could be there, you ask? Well, none other than amazing Ace customer Terri NYC!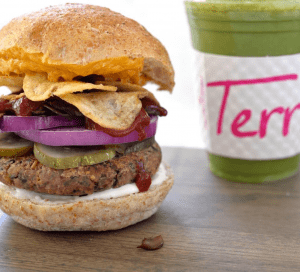 For those of you who may not know, Terri is an innovative restaurant offering nutritious plant-based food made with fresh, healthy ingredients. Started by two best friends–Craig and Mike–who both have mothers named Terri, this is the "first restaurant of it's kind…bring[ing] mom's nutritious cooking to people on the go, serving thousands of people a day out of [their] three locations in Chelsea (60 West 23rd Street), the Financial District (100 Maiden Lane) and Midtown East (685 3rd Ave)."
Terri's Maiden Lane location is bright and cheerily decorated, with "paintings" of ornamental grass on the wall, as well as a refrigerator filled with vibrant juices. In fact, Terri is known for the "Terri Juice Cleanse," which boasts 6 cold-pressed juices per day, including flavors like Strawberry Mint Lemon & a Touch of Maple Syrup and a decadent Cashew Milk.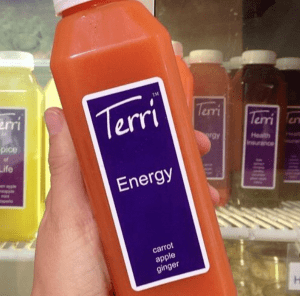 Not fond of missing out, we decided to order two juices–the ultra-sweet/fruity "Energy" mix, made with carrot, apple, and ginger, and the Live Long & Green, which consists of spinach, apple, cucumber, lemon, and ginger.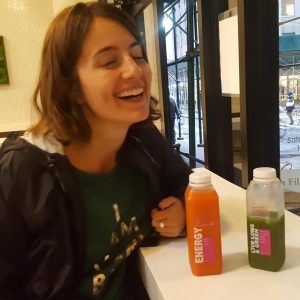 In case you can't tell, we really loved our juices!
We also ordered the Portobello Sandwich, which was served promptly and arrived steaming hot. Stuffed with tender, juicy chunks of portobello mushrooms and smeared with a layer of cashew ricotta and tomato jam (which gave the sandwich a creamy sweetness), we attacked it with gusto and didn't stop until we had consumed it all.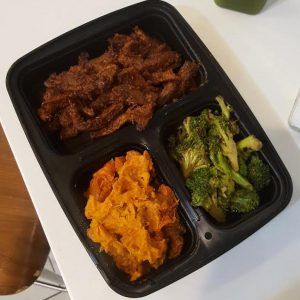 Not to be missed is the Combo Plate, which allows the person who orders it to choose from a decadent assortment of proteins, vegetables, and starches. Meatballs, Thai chicken and BBQ pulled pork are three of the plant-based protein options, while kale salad and spicy broccoli can be ordered to fulfill the veggie component. Starch-lovers can quench their desire with a side of southwestern quinoa, sweet potatoes, or cole slaw, among other options. A bit embarrassing to admit, but we actually forgot we weren't eating real meat until we had devoured half of our Combo Plate!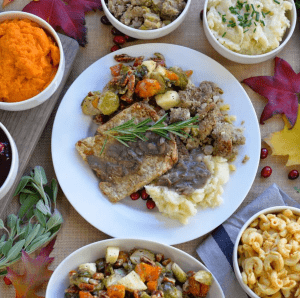 Terri may be crafted to suit the needs of New Yorkers who find themselves on-the-go, but they also support slowing down and relaxing…if you don't believe us, just check out their catering site, Plates by Terri. According to them, "Plates is a labor of love that elevates Terri's award winning comfort food to the centerpiece of your finest event." While dishes change seasonally, Plates is currently offering hors d'oeuvres of Zucchini Wrapped BBQ Seitan Skewers, a Grilled Peach Salad with candied walnuts and a citrus dressing, entrees of Chickpea Sweet potato Cakes with creamy dill dressing and Seitan Marsala, and Mini Peanut Butter Cookies for dessert.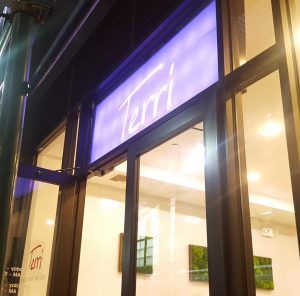 As we we left Terri satiated and with our spirits lifted quite considerably, we couldn't help but agree with the small type at the bottom of Terri's website, "…stop in and feel free to eat your heart out. It will thank you later!" Thank you indeed, Terri!
Images via @terrirestaurantnyc + Ace Natural