September 2, 2015

As the early days of September roll in, we find ourselves already waxing nostalgic for the sun-soaked months of summer, and for the best antidote to the heat–ice cream! In order to satiate our craving, we decided to check in with Ace customer Ample Hills, who offer their delicious ice cream at 5 locations throughout Brooklyn, Manhattan, and Queens. We were lucky enough to speak with Ample Hills' Director of Marketing Lauren Kaelin, who is also the co-author/illustrator of Ample Hills Creamery: Secrets and Stories from Brooklyn's Favorite Ice Cream Shop (perhaps the only ice cream cookbook in the world which organizes their recipes by mood and is brimming with hand-drawn illustrations of cows!). Read on to get the scoop (ahem) on all things Ample…

Can you share the story of Ample Hills' birth? Was it a long-standing dream for founders Brian and Jackie, or the result of a burst of sudden inspiration?
I think Brian always wanted to open an ice cream shop–don't we all?–but it wasn't until his careers as an audiobook producer and horror movie writer had dried up that he was forced to pursue this passion. Ample Hills began with a cart in Prospect Park, selling scoops and pops during the summer at Celebrate Brooklyn concerts. In 2011, Brian and Jackie decided to open their brick and mortar store in Prospect Heights. The response was amazing. We sold out of everything within four days. It was probably a combination of poor planning, being under staffed and unending demand, but thankfully when the NYT wrote a feature they only highlighted our popularity.

We love that Ample Hills was named after Whitman's "Crossing Brooklyn Ferry." Was that always a favorite poem for Brian and Jackie? Do many people guess where the name comes from?
Part of "Crossing Brooklyn Ferry" is engraved at the pier that overlooks the Brooklyn Bridge. I think people are the most familiar with that section. Walt Whitman was always a favorite of Brian's, but also seemed perfect for a Brooklyn-based shop. "Ample Hills" is often thought to be a sort so subtle innuendo, but the name was chosen for its pastoral allusion.

How is Ample Hills' food philosophy reflected in its business practices?
We do everything slowly and by hand. It many ways we are more concerned with the narrative and process (of making and selling) than with expediency. For instance, for our collaborative Baked Ice Cream Sandwich, we actually make cocoa crispies in our kitchen, baking the cereal in butter and cocoa powder. It adds many steps to an already laborious process, but it tastes so much better and adds to the narrative and the result–an epic sandwich. We pride ourselves on having a culture of "yes" and it's something that we train all of our staff on–we split scoops with multiple flavors, allow endless samples, and tons of adults get the kid's size. It's not the most practical or technically "business savvy" way of doing things, but it reflects our philosophy of engaging people in a narrative and allowing customers to feel more involved in their selection.

Everything about Ample Hills' marketing is so lovely and creative…the Instagram is absolutely gorgeous and your illustrations for the Ample Hills cookbook is lovely. How did you come to work for Ample Hills? Were they looking for an illustrator from day one?

Thank you! I just lived up the street and walked in one day during Ample Hills' first summer. I used to work at an ice cream shop in high school…it was my first job and my sister was the manager. I loved it and when I first moved to Prospect Heights, I was eager to form a connection with the neighborhood. I walked into Ample Hills–groceries in hand–and asked if they were hiring. I started off scooping and then would draw cows at home, make elaborate window displays, and necessary "Used Spoons" signs. Ample Hills wasn't looking for an illustrator, no, but I think the characters, hand-drawn flavor signs, and chalk art have become the brand.


Ample Hills is a registered dairy plant and the first ice cream shop in NYC to pasteurize the milk, cream, sugar, and eggs on-site. On your website, it says that this allows you to create quirky, experimental flavors because you have more control over the process. Where does the inspiration for these unique flavors come from?
Everywhere! In the beginning it was just Brian and Jackie trying to emulate banana pudding, make a natural bubblegum ice cream, etc. But now it's truly collaborative. We have flavor naming and designing contests on our social media channels, our chefs are constantly coming up with ways to reimagine the possibilities of peanut butter and breakfast cereals. It comes from movies, TV shows, and a ceaseless desire to make the BEST flavor.

Your flavors are so daring! Have you ever created one that sounded much better than it tasted?
Oh yes, so many. There have been some flops. The Beer Muncheez: apple Lambic ice cream with cheez-it and pretzel mix-ins. Brian once made a flavor called Walt in the Sky with Diamonds that was wild: tutti frutti ice cream with marshmallows and mini M&M'S®. I don't know if either of these really sound good.

Can you tell us about the ingredients that go into these batches…do you emphasize local, natural, organic? Have you partnered with any local vendor for ingredients?
We seek out, whenever possible, all natural and delicious milk, cream, and eggs. I have personally done many heavy cream taste tests. We have partnered with farms and collectives and are always interested in high-quality, ethically produced dairy. We also love working with other small businesses. We just used basil from Gotham Greens in a sorbet that was AMAZING. All the basil is grown on roofs hydroponically. We have also worked with Baked and Steve's Key Lime Pie in Red Hook. There have been a lot partnerships.

Ample Hills offers wedding cakes and we saw on Instagram that there have been original, personalized flavors created for a bride and groom. Is that something that you do regularly or was that a unique occasion? What was the process of creating those individualized flavors?
Oh yea! We've done it a bunch of times now. Once was for my wedding so I don't know if that counts, but I'll meet with couples and they'll come up with some ideas: baklava ice cream! Or coffee and donuts! And then we try to personalize it with favorite liquors, the mother-in-law loves pecans, a favorite beer from a hometown. It's exciting and challenging to create something so personal.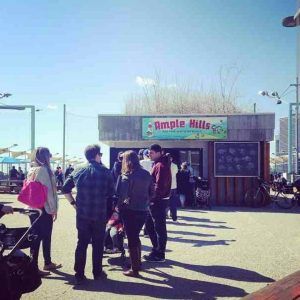 What is the most surprising thing that has happened as a result of Ample Hills' success?
How much people love it. How much people feel like it's their ice cream shop. All of that is intentional and crucial to our success and brand, but I am constantly surprised and thrilled by how many customers have become fans, have become advocates. And how organic that process has been. It's amazing to be in the shop on a busy Saturday and overhear people telling the "story of Ample Hills" to their friends and family. 

Thank you, Lauren!
Have you been to Ample Hills? If not, stop by one of their shops! Are you looking to learn more about the process of making ice cream? Sign up for one of Ample Hills' cooking classes! Have a lovely week…
Images: Ample Hills' Instagram