February 6, 2018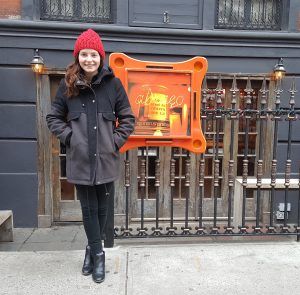 Ask nearly any coffee-loving, in-the-know New Yorker where to get a good cup and they'll direct you to Abraço Espresso, a light-filled cafe in the East Village offering coffee "roasted with enthusiasm" as well as an assortment of savory items and delicious baked goods.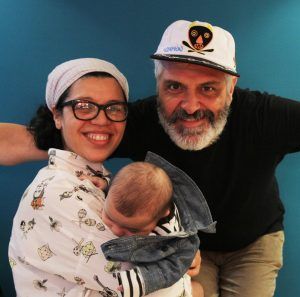 In addition to good coffee, Abraço boasts some serious family vibes, which might be due to the fact that it is owned by wife/husband team Liz Quijada and Jamie McCormick. The co-owners both hail from foodie backgrounds–Liz has experience catering and Jamie has always worked as a barista/barman. Says Liz: "I started getting involved with coffee while swinging on a swing. The image of a coffee came to my mind…I'm serious. It was a park in Alameda, California. On the rich side of town, where all the punks lived. I decided I wanted to open a coffee shop while on that swing. I will never forget it. I decided that that's my thing—for life."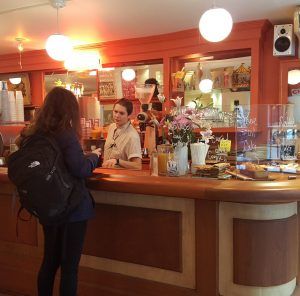 The two relocated from their native Bay Area to NYC and opened a tiny coffee shop at 86 East Seventh St. in 2007. News of the hole-in-the-wall with the silky lattes and delicious olive cookies spread quickly and they later relocated across the street to their current, larger location at 81 East 7th St. The space may be bigger, but the vibe is no less warm; patrons still choose to talk to each other rather than bury their heads in laptops and an air of good cheer permeates the shop.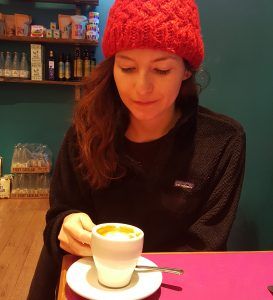 The majority of Abraço's coffee, which Jamie roasts himself, is sourced from Brazil and Central America, although you can find roasts from all over the world. And although they don't tout it, the ingredients used in their baked goods–as well as the milk poured in patrons' coffee–is nearly all organic. To drink and dine at Abraço is to feel taken care of: "We live on the block and spend a lot of time there. There is also a community that has come out of Abraço—not by design, but organically—of neighbors and strangers meeting up," says Liz.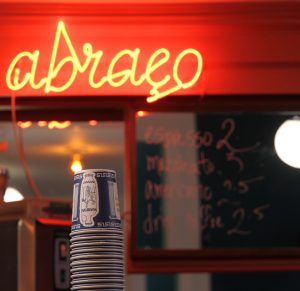 If you find yourself in the East Village (or really anywhere in the city with some time to kill and a hankering for a good cup of joe) we suggest heading over to Abraço immediately. Decaf drinkers should be warned that they only carry the full-strength stuff…but it happens to be worth it. Enjoy!
Images via Ace Natural + Liz Clayton (via Sprudge)