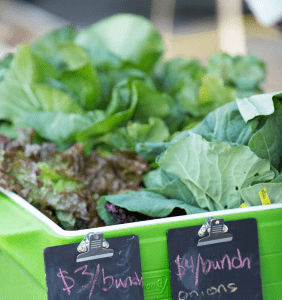 Happy June, friends! We're kicking the month off with a produce forecast from our very own Allison Bennett, Director of Produce Sales. As you probably know, Ace only supplies 100% organic fruits and veggies and we strive to buy locally whenever possible. Keep reading to stay abreast of all the Ace produce news…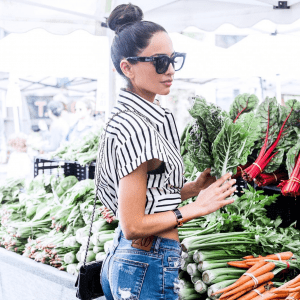 Hi Allison! The warmest months of the year are coming fast and, with them, a lot of produce. What can we look forward to in the next weeks?
We have a lot of exciting things on their way. Kale, dandelions, red and green chard, cilantro, Tuscan kale, spinach, bunched arugula, and dill are all coming in from loyal Ace vendor Marolda Farms.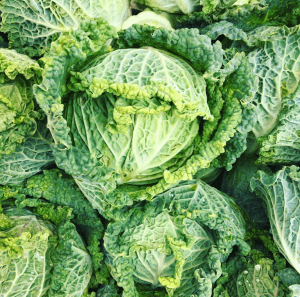 And which items have been selling really well lately?  
We've had a fun little exercise with bringing produce in from Georgia. This is a new thing; we've been getting kale and cucumbers from there recently and will be bringing in some cabbage from Georgia this week, as well.
Is there a specific farm in Georgia that we're buying from? How does it work?
There are a lot of different farms involved and it is all coordinated by Todd Scarpaci at Big Crop Organics, Inc. A lot of farmers in the south have been working between farms in Florida and Georgia…right now we're getting kale from Georgia as well as from North Carolina for the first time.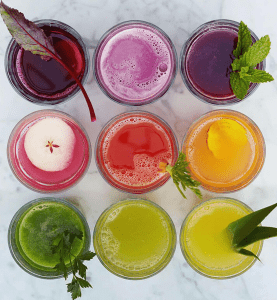 And the kale that you mentioned before from Marolda Farms–is that used differently?
Marolda's kale is primarily used for juicing; it's a very soft leaf, not as hard and firm as other brands. When we want bunched kale, it will come in from North Carolina and we're excited to see what it's like.
Any news on apples?
Yes, the apples we're distributing will now be from the southern hemisphere.This is a good thing because the apples from the northern hemisphere are old (it's getting late in the season here) and quality of the crop is okay but not great. Now that we're switching, we can offer our customers a much better crop. We're looking at an influx of Gala apples and Bartlett and Anjou pears, all coming from South America. That pipeline is open and starting to flow from Argentina, too.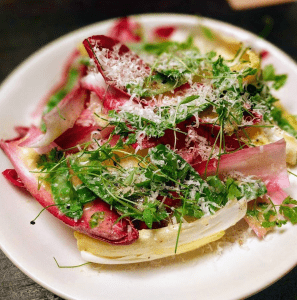 Are there any new products you're excited to tell Ace customers about?
We actually do have a few unusual specialty items that are hard to find on the organic market, such as rhubarb (from Lancaster Farms), a fair amount of snap peas, and English peas (which are seasonal and usually appear and disappear very quickly). We are also selling endives (coming from in from California) to Jean-Georges' restaurant, Mercer Kitchen. They use the endives in a salad along with sugar snap peas, parmesan dressing, and herbs. I tried it and it's delicious!
Are there any unusually high prices or good deals on certain products that customers should be aware of?
Right now there are super high prices on celery due to a shortage. Escarole, napa cabbage, and romaine lettuce from the West Coast are also hard items to come by. California's weather is making certain items difficult.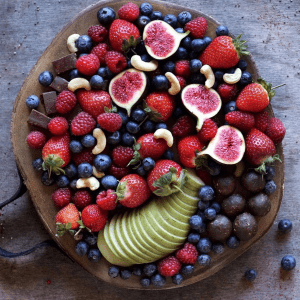 Good to know. And, lastly, what summer produce is starting to become available?
Well, local lettuce is kicking in and pineapples are going strong–we have a great supply coming in at a great price. Watermelons are also starting to come in and corn will start arriving soon from Georgia. Berries are running strong and we brought in sunchokes for the first time. Local sunchokes are also known as Jerusalem artichokes, and they are a root crop that is not a starch but behaves like one…kind of potato-like but good for people with diabetes as they are not hard on the blood sugar.  We ran through them really quickly so if you want them, let us know! We can definitely get more. Also, strawberries from Reeves Farm are right around the corner and, once they're here, will only be available for a few weeks!
Thank you for sharing your wisdom, Allison! We hope this guide helps you stay up to date with all of Ace's produce offerings. If you have any questions, feel free to comment below…
Images: @ashleygrosch @drmonavand @vibrantlyhealthykids @ekaterinamurphy @clbeischer @papaya_sunshine