March 21, 2018

A few weekends ago, the Ace team went to the annual International Restaurant & Foodservice Show of New York at the Javits Center. While we've been going for many years, it was only our second year with a booth of our own. We recently caught up with Tor, Ace's CEO, to talk about the experience. Read on…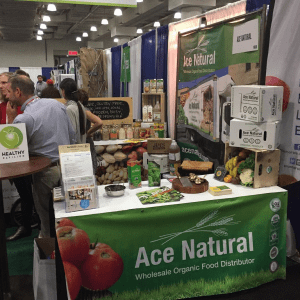 This was our 2nd year with our own booth. How did it go?
Yes. This year, instead of being in the "new trends in food" section, we chose to be in the "healthy" pavilion. And we were back-to-back with our vendor Bob's Red Mill. We also had a representative from Blue Marble sharing our space, scooping their amazing ice cream.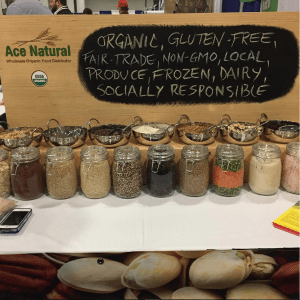 How does the experience change being in the booth instead of in front of it?
It's a totally different experience, it's representing ourselves to the world. It takes a lot more preparation and, additionally, it's a lot more about us meeting our potential and current customers. When you walk the show it's about 50/50 or more in terms of meeting other vendors who are selling you things. We still had plenty of people trying to sell their products to us because they like what we do but [having our own space is a] more professional way for us to present ourselves to our customers.
We had pretty much everyone from our customer service and sales teams in the booth area at some point over the 3 days. So long-time customers could put a face to the voice that is generally on the phone. It's a great way for us to meet people in person.
Were there any new companies or products you discovered and are excited about?
We saw some products that we hadn't seen before from current vendors. One was the organic chocolate vendor Agostoni. They are coming up with smaller pack sizes of their product. Generally we sell their chocolate in 25 or 40 lb. packs but are hoping by late spring we'll be able to start offering 8 lb. packs. Smaller sizes are great for customers who aren't doing big batch things but really want high-quality chocolate.
You've been going to this show for a long time. Were there any surprises?
Yes, we saw some meatless options we've never seen before. There were two or three 100% vegan meat analogues–one was a chicken and one was a shrimp. It's cool to see that the show is getting a little more "cutting edge."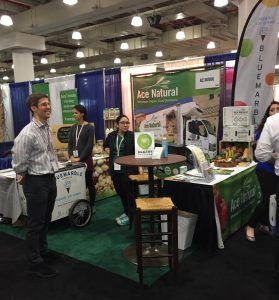 Looking forward, do you have tips for people either attending for the first time or running a booth for the first time?
Running a booth is about having a clear theme and not over displaying–be simple. Less is more. Stick with what you do best and present that. For some companies it's easy because they only do one or two things. For companies like us that do a bunch of stuff, you have to really choose your direction.
In terms of attending, it's a pretty small show so you can walk it in one day. Don't get too bogged down in conversations about products you're sure you're not interested in. There is a lot of restaurant equipment and innovative supplies there, so it's great for someone who is just starting a restaurant (or looking to freshen one up) because it gives you a lot of ideas. There are also a lot of food truck solutions. Food is not the main draw here but with the "new trends" section it's still a big draw.
Thanks so much, Tor. To all of our customers and vendors, we hope to see you there next year!
Photos via Ace Natural