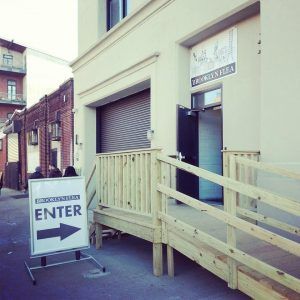 As you've probably gathered, those of us who work for Ace love to feast…and we've discovered that a prime site for hunting down healthy, delicious local food (made by vendors who it's easy to feel good supporting) are Brooklyn Flea's multiple Smorgasburgs. We loved our time visiting the Brooklyn Heights location back in September so much that we decided to go again–this time popping up at the indoor Winter Flea + Holiday Market in Brooklyn's Crown Heights…
Walking down the street, it would be easy to miss the wooden ramp and sign that mark the spot if it weren't for the horde of Brooklyn hipsters and unashamed food and flea connoisseurs traipsing into the renovated factory.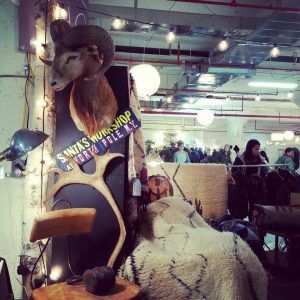 One of the many awesome things about the Winterfest is that they don't just have food–they also offer a huge array of vendors boasting beautiful flea market finds. From gorgeous mirrors to old books, handcrafted jewelry, high quality children's toys, and more, something among the offerings is sure to catch your eye.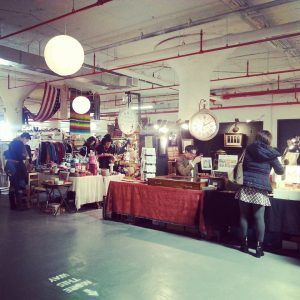 Of course, we were on a mission to find the food so we didn't have time to shop. We'd heard a rumor that seven–seven–of our amazing customers were setting up shop at 1,000 Dean so we were all about that food. Funnily enough, the offerings from the assortment of Ace customers who were at the Winterfest formed the components of a perfect meal: Brooklyn Soda Works and Brooklyn Roasting Company make delicious caffeinated and non-caffeinated beverages, depending on your preference. Chickpea & Olive, Charlito's Cocina, and Asia Dog sell filling and creative main courses for veg, vegan, and more omnivorous eaters alike. And last but not least, Whimsy & Spice and Blue Marble Ice Cream serve some delectable desserts.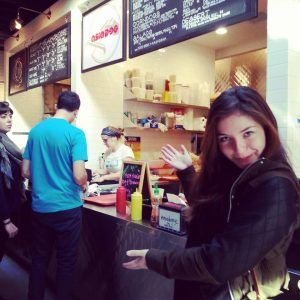 Our first stop? Ace customer Asia Dog, who has a lovely booth in a sunlit dining room on the second floor and is famous for their new take on the hot dog, loading up the classic NYC staple with Asian-inspired toppings. We ordered our dogs, staked out one of the wooden picnic tables that lined the room, and waited till our pager buzzed (they're so organized!).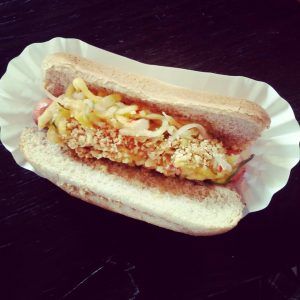 Lo and behold, our dogs were indeed delicious! Pictured above is the Thai-style "Sidney," topped with relish, mango, cucumber, red onion, cilantro, crushed peanuts, and fish sauce. We chose a chicken hot dog (you can order chicken, beef, organic beef, or veg) and a whole wheat bun (never fear, white bread buns are also on tap). The result was the perfect mix of crunchy, meaty, and juicy, with the mango adding a sweet & saucy kick.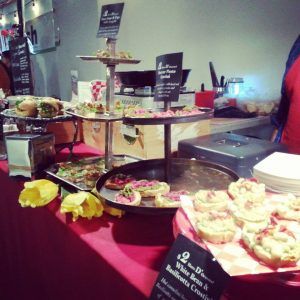 Other options included handcrafted tapas…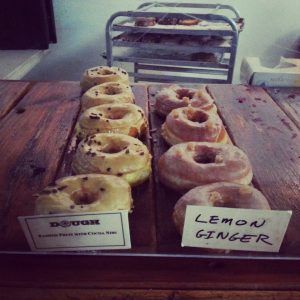 And Dough's delectable doughnuts!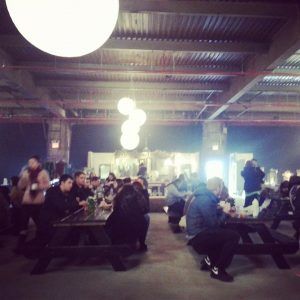 Plus there are many spots to sit and enjoy your meal. We were impressed that although the place was quite crowded, we didn't have to wait around for a seat.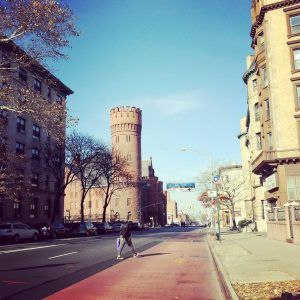 And with our stomachs full and our hearts utterly content, we bid adieu to Crown Heights.
Until next time, Smorgy!