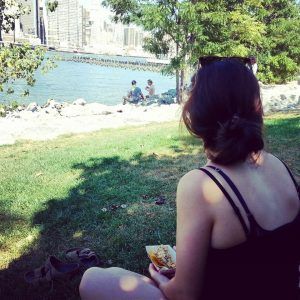 Remember when we first wrote about Brooklyn Flea's phenomenal food fair Smorgasburg? No? Well, we don't blame you–it was so long ago that we can barely recall it, either.  In order to right this wrong, we headed to Brooklyn last weekend and reacquainted ourselves with this most gastronomically pleasing of affairs. One of the many wonderful things about summer/early autumn in The City is that there are an array of unique activities, such as free concerts, yoga classes in Bryant Park, interesting writing workshops, rooftop movie screenings…and new Smorgasburg locations. That's right–now you can catch the greatest dining experience of all time at Brooklyn Pier Park and Central Park's SummerStage events (in addition to its regular haunts: Williamsburg Flea, Park Slope, and Fort Greene).
Our adventure started at Pier 5, where Brooklyn Pier Park's Smorgasburg usually takes place. We found Ace customer Ample Hills Creamery (selling their delicious ice cream)…but none of the other tents!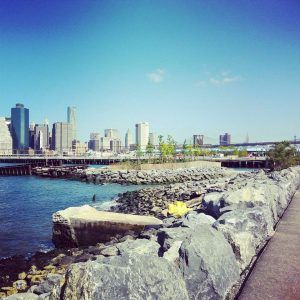 Luckily, we saw a sign explaining that the food fair had moved to Pier 2–it's new location through October 5th–so we headed over there.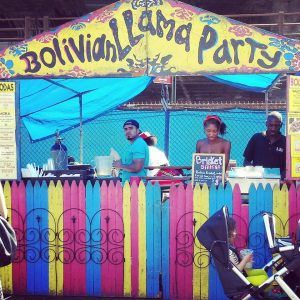 There's really no better way to start your Sunday off than with the Bolivian Llama Party! We also recommend waking up with a cup of organic, fair trade, and Rainforest Alliance certified coffee from Ace customer–and Smorgasburg vendor–Brooklyn Roasting. You know it's going to be a good day when you've had your cup of joe and done some good in the world before noon!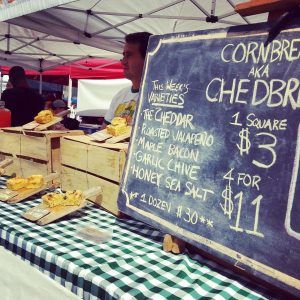 Lusting after Jack's Chedbred, made with crazy ingredients like bananas, bacon, and peanut butter.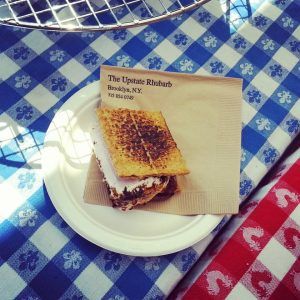 Perhaps the closest thing to camping in NYC: artisanal s'mores from The Upstate Rhubarb.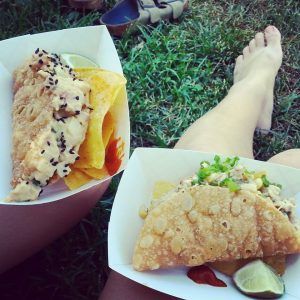 The downside of having moved the party to Pier 2 is that there are not quite as many vendors (although truth be told we were relieved as we still found ourselves slightly stressed by the huge array of options) and the tables are a bit of a walk away. The good news? We found a lovely patch of grass on which we were able to kick back and enjoy our tacos: Spicy Tuna (left) and Crispy Shrimp (right) from Takumi Taco.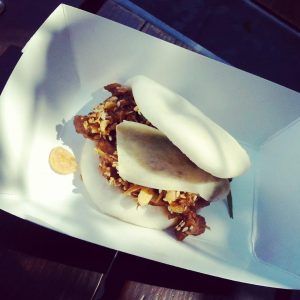 When faced with the reality of actually having to leave, we decided to have a second lunch: Bite Size Kitchen's Duck Leg Hot Buns (with fresh ginger, cilantro, toasted sesame seeds, fried garlic and shallots). 
The secret of their deliciousness? "Those duckies get braised in some fairly awesome sauce for hours until the meat just falls off!" The method certainly worked.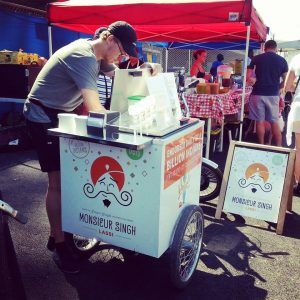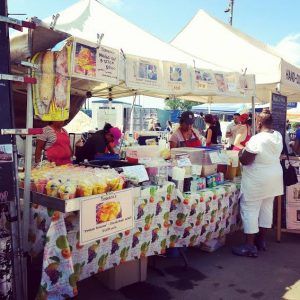 For us, one of the best parts of Smorgasburg was visiting all of our customers–but for better or for worse, we didn't have room in our bellies for the vast quantities of food we wanted to consume. On the list for our next visit: Chickpea & Olive's organic vegan Phatty Beet Slider, made with beets, lentils, brown rice, mushrooms, and Daiya cheese. We're also itching to imbibe a Strawberry, Hops & Pink Peppercorn carbonated juice from Brooklyn Soda Works, accompanied by a scoop of cold, organic deliciousness from Blue Marble Ice Cream. Guess we'll have to wait till next time…
We have to agree that Smorgasburg is truly "One of the great urban experiences in New York" (you nailed it, New York Times). Thank you for a wonderful morning, Brooklyn!