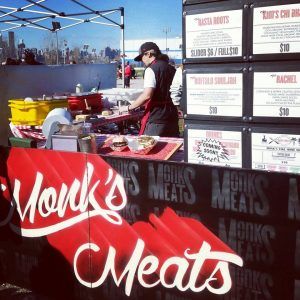 The challenge of most vegan eateries is making food that doesn't contain animal products and tastes delicious enough to attract both vegans and those who prefer a carnivorous diet. Ace customer Monk's Meats, a "purveyor of plant-based meats and cheeses," has an even greater challenge: making 100% vegan food that not only is meat/dairy-free but also masquerades as the real deal. We're pleased to say that Monk's Meats has not only succeeded, but that their amazing seitan is more than just a meat substitute–it's truly a unique, distinguished product in its own right! We stopped by Smorgasburg last weekend to catch up with Monk's co-founder Chris and found that we were not only a fan of their food but also of their philosophy; how can you not like a business whose motto is "Fresh food tastes good"? Keep reading to learn more about Monk's Meats…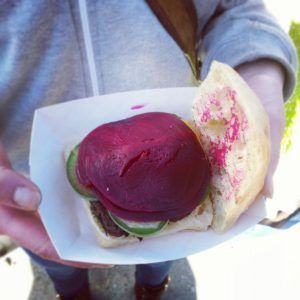 The "Rasta Roots" slider, made with smoked jerk seitan, roasted organic red beets, house pickled organic carrots, sliced organic green meat radish + vegan mayo on a ciabatta roll
How is your food philosophy reflected in your business practices?
We think of it in two ways: first if the food is fresh, it's always going to be healthier, tastier and more enjoyable. This principle guides us in selecting local and organic ingredients and in going the extra mile to make sure what we serve is at its best. Secondly, we see these two ideas as the most important aspects of making food – freshness and flavor. Our food is completely vegan, but that's just the starting point. If it doesn't taste good and isn't high quality, then there's no point in putting it on a plate.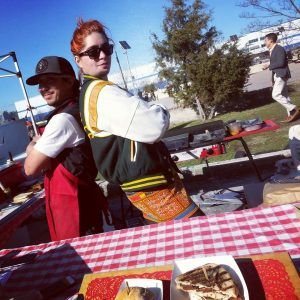 Chris (left) and Monk's employee Chip working the booth at the Smorg
What inspired you to create Monk's Meats?
My partner Rebecca and I started Monk's in 2011. We were working on a different business idea–a bicycle commuting fashion-friendly company–back then, but always loved to cook together. One Sunday, Rebecca decided to try her hand at making seitan and a few Sundays later we had an idea for an all-vegan meat and cheese shop along the lines of a traditional New York butcher delicatessen.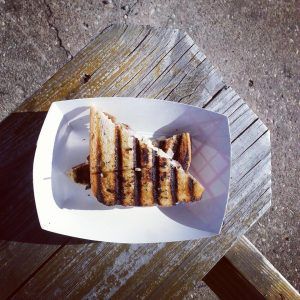 The "Rachel" sandwich, made with coriander + pepper crusted seitan pastrami, housemade sauerkrat, melted vegan Swiss cheese (from Ace vendor Daiya Foods), and dijon mustard on rye
How would you describe your journey into the health food industry?
Rebecca has been vegan since she was a teenager and I've followed a vegetarian diet since I was a bike messenger in the mid 90's. I worked in catering and restaurants in my early 20's and had a few other career turns–as a bike messenger and as a lawyer–but food has always been super important part of my life. When I started to eat vegetarian I had to relearn pretty much everything I knew about food, but rather than being intimidated by the challenge, I found it fascinating to learn about new vegetables and techniques for preparing them. Twenty years later, I'm still excited every time I see something amazing in the farmers market.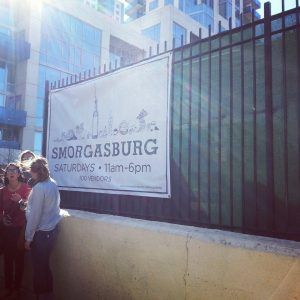 Where can your fans find you?
We pop up every Saturday and Sunday at Smorgasburg as well as the monthly Vegan Shop-Up and The Seed: MARKET. This month, we will be at The Red Hook Crit on the 25th and we are doing the food for Vegan Drinks at Fontana's on the 30th. We sell our seitan at natural grocery stores like Perelandra Natural Food Center, Westerly Natural Market, Back To The Land, Commodities Natural Market and more. You can also find our products at local restaurants like Lumpia Shack!
Amazing! It sounds like you guys are on a roll. Any big plans for the future?
On the horizon, we are looking to open a shop front soon. We will be running a Kickstarter this summer and hoping to find a full-time everyday home for Monk's by the end of the year.
Thanks, Chris and Rebecca!