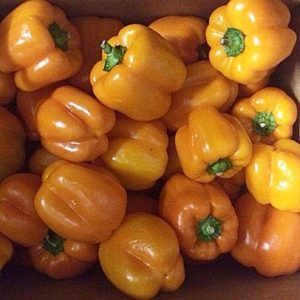 If you've been following our produce posts, you probably know that a large percentage of our local, organic produce comes from Marolda Farms, a family-owned business located in Vineland, New Jersey. This winter, owner Rich Marolda did something new and, quite frankly, very cool: he continued growing peppers long after the typical growing season generally ends (due to the northeast winter chill). In fact, the "experiment," as Rich likes to call it ended only a few weeks ago–meaning that he was able to continue growing these fall crops well into the winter! How did he do it? Keep reading to find out…
Hi Rich! We're so intrigued by what you've been doing. Can you tell us how you got started?
Well, about 8 years ago I purchased a high tunnel, which is basically a glorified greenhouse without heaters. There are no nuts and bolts, it's just plastic and a frame. It gave me the chance to grow some organic crops, like peppers, starting 2 months before everyone else…and then extend the season a month or two later than the weather would have permitted. This year, I had 2 small greenhouses set up that I didn't end up needing, so I took the extra organic pepper plants and planted them in these smaller greenhouses as if they were in a field. As it got closer to the end of the season, I thought I'd like to try growing them through the winter. When it got cold, I added heaters and turned them on instead of doing what I usually would have done–pulled the peppers and cleaned out the tunnels. I decided to see what would happen.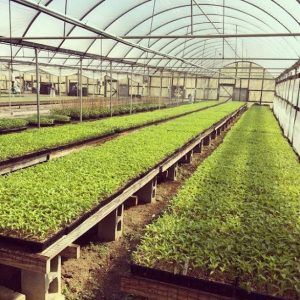 How did it go?
These pepper plants were originally planted at the end of April, beginning of May, so they're old plants that have been producing peppers since June. Everything went pretty similar to how it would have gone out in the field. I just planted them in the ground, staked them, tied them, and  irrigated them using drip irrigation; there was no concrete floor. I harvested them once a week. I was raising the peppers for color, meaning that we would wait for them to turn either red or orange, but never harvest them when they were green. As the days got shorter, the yields started to decrease. We were shipping about 20 cases, sometimes more, of Bell Peppers–mostly red, some orange–every week.
How long did you expect the peppers plants to keep producing?
I never had pepper plants produce this long, so I wasn't sure what was going to happen as the plants got older and older. By the end of December I could see some age on the plants themselves but they were still making beautiful peppers so I thought I'd wait and see what happened. It was all a big experiment.
Are you thinking of doing this again next year? If so, what would you do differently?
Maybe next year I'll have to consider planting new plants in September so come December we'll have a fresh crop. I also might expand with peppers or bring tomatoes into the mix, as well.
This is something that is more commonly done in Canada–are you the only one in the U.S. doing this?
I don't think I'm the only one in the country doing it. There are probably other areas where it's being done, but it's not widespread. It's more done out of necessity in Canada because the growing season is so short due to the cold weather. It's a weather thing–protecting your crop, getting a longer growing season, being able to grow out of season.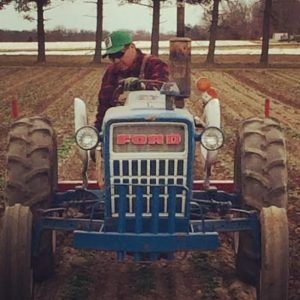 And our final question: is this affordable? 
Well, it comes down to the value of the product–if I was growing doing conventional, it might not be affordable but I was growing organic, so it was. When sun comes out it generates a lot of heat in the greenhouses because of the plastic. It doesn't have to be 80°F, either–I had heaters at 58°F. Once the peppers are established they can take cooler weather, so they are a good crop for this experiment. It's really a matter of keeping the soil temperature up a bit during day and then if it cools off a bit at night, it's okay. I was also using natural gas for the heaters and they're pretty efficient compared to electric or oil, which is very expensive. As I said, this was all one big experiment for me!
Thank you, Rich! To learn more about Marolda Farms, read our profile here.
Images: Marolda Farms & Ace Natural