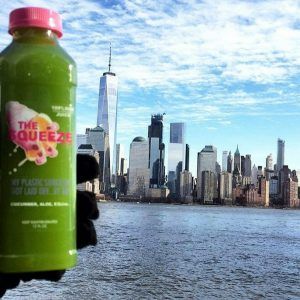 Ace customer The Squeeze is known throughout New York for its cold-pressed organic juices, cleansing programs, delicious raw food, and health-boosting elixirs. The Squeeze's founder, Karliin Brooks, is a self-described "eco warrior, juice queen, and lover of all things" who began juicing and cleansing after she was diagnosed with Graves' disease. Her goal is to "expand The Squeeze until it takes over the world and everyone drinks a green juice instead of coffee in the morning" and, so far, she's doing a pretty great job: The Squeeze has a slew of Brooklyn and Manhattan locations as well as a squad of dedicated fans.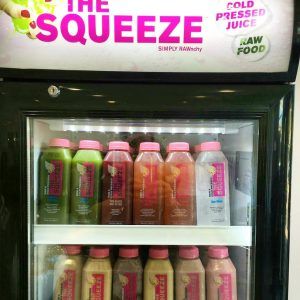 In late 2015, we visited The Squeeze at their booth at the Gansevoort Market and have been itching to stop by The Squeeze's Spring St. spot ever since. Located at 233 Spring St., wannabe Squeeze customers have to walk past a building guard and through a rather imposing lobby to reach the little store, nestled behind a set of glass doors. Once inside, however, we knew we'd reached our destination: the small green room was packed with more raw salads, healthy breakfast options, and freshly pressed juices than we could have ever dreamed of.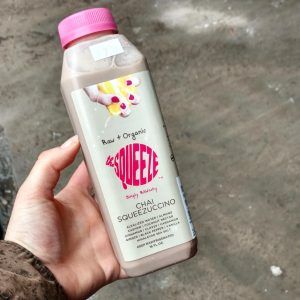 It would be an understatement to say that we had a hard time choosing what to order during our visit, but we ended up settling on The Chai  Squeezuccino, a super sweet drink made with chai tea, cashews, Irish moss, and a slew of different spices. We loved that it was sweetened with coconut nectar…and that the drink gave us a huge energy boost, keeping us cheery and on our toes throughout an otherwise dreary morning.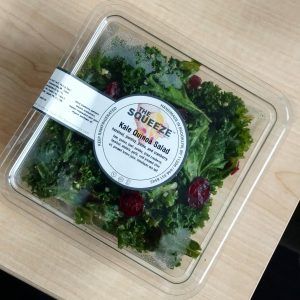 Lunchtime couldn't come soon enough, as we knew the hour would also bring the chance for us to try The Squeeze's Kale Quinoa Salad. Composed of kale (massaged to perfection in a parsley hazelnut pesto) as well as quinoa and sun-dried cranberries, this salad was zesty and fresh. In fact, it was one of the few kale salads we've ever had that boasted kale that was just soft enough to melt on our tongues without being oily–a difficult balance to strike.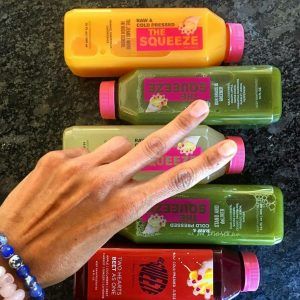 If you're looking to add some Squeeze to your life, consider ordering Brooks' new book, Squeeze Life: Your Guide to the Best Bare Body, or stopping by the 108 MacDougal St. location, which was named the world's first-ever vegan burger bar by the West Village Patch. Says Brooks of the venture: "The Squeeze was built from an authentic passion and a connection to a greater purpose of wellness for all of who inhabit the planet. Raw foods and juicing remain an integral part of The Squeeze and the line extension into vegan fast food broadens the appeal to a wider army of palettes. Kids, dogs, carnivores, Trump supporters are all into it. This is grass fed. For real."
For a list of locations, click here. Thanks to The Squeeze for a delicious morning!
Images: @acentural + @thesqueezeny