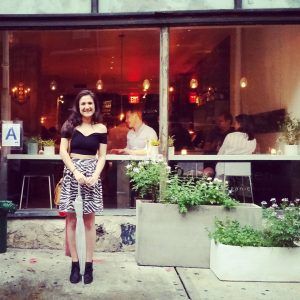 On a rainy Saturday night not too long ago, we had the rare treat of dining with Ace customer ABC Kitchen. One of the many renowned restaurants by the famous Chef Jean-Georges, ABC is known throughout the city as a bastion of delicious health food. As they write on their website, ABC's cuisine "reflects a passionate commitment to the freshest organic and local ingredients possible. The restaurant's changing menu focuses on local, sustainable, seasonal produce that does not use pesticides, synthetic fertilizers, insecticides, or GMOs." In addition, they highlight locally sourced meat, fish, and dairy, and even have a rooftop garden where they grow their own herbs and microgreens!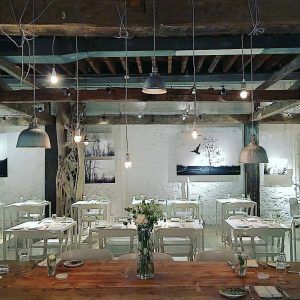 ABC is more than just a restaurant with amazing food; the same building that houses the "kitchen" also houses ABC Carpet & Home: a huge space glittering with beautiful home goods. In order to not get too distracted, we arrived via the separate restaurant entrance, and were still stunned by the decor. Candles sparkled on every table, chandeliers hung from the ceiling, and gorgeous pieces of salvaged driftwood, decorated with fairy lights, adorned the room.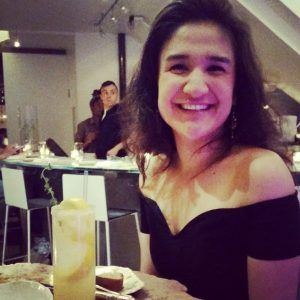 We hadn't made a reservation (which we soon found is a big no-no on a Saturday night at ABC), but luckily our kind waiter escorted us to a high table near the bar, which sported a whimsical bouquet of flowers.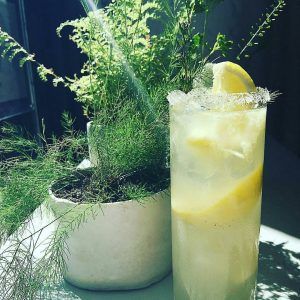 After settling in, we ordered a Vodka Thyme Lemonade from the cocktail menu. Made with local Industry City vodka and sporting a classic sugar rim, the drink was sweet and refreshing–the perfect primer for a summer meal!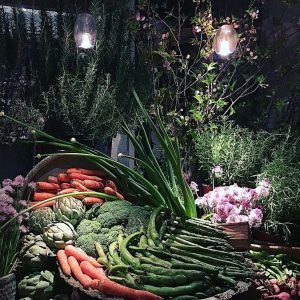 We took our time scanning the menu, which offered everything from housemade pastas (think Ricotta Ravioli) to whole wheat pizzas (including one with summer squash, feta, and lemon), and a smattering of mouthwatering entrees (such as the Wood Oven Roasted Maine Lobster seasoned with lemon-chili vinaigrette). We eventually made our second best decision of the night (second only to our choice to dine at ABC), and agreed to diversify in order to sample as many of these special dishes as possible. We settled on two appetizers, a daily special, and one offering from the "market table" list (see the daily offerings from the market table in the photo above).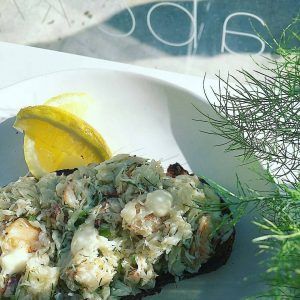 First up was the Crab Toast with Lemon Aioli: a luscious, juicy smattering of crab on a thick, crusty piece of bread. We each took our respective halves, doused them with lemon, and were delighted by how well the bread soaked up all the juices and yet still retained its crunch.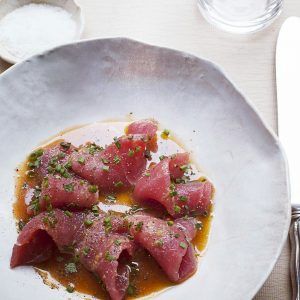 Because we love our seafood, we also ordered the Tuna Sashimi: petal-like curls of tender tuna marinating in a delicate puddle of ginger and mint. As much as we wanted to make it last, we couldn't help but gobble it all up with wild abandon.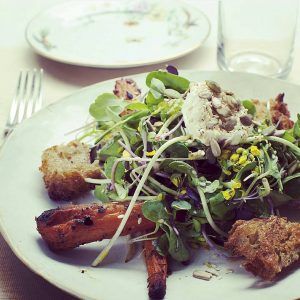 After our first plates had been cleared, our waiter brought out the next two orders. We quickly went to work on a Roast Carrot and Avocado Salad, which he had thoughtfully split and served on two plates. The greens were strewn with crunchy seeds and piled with sour cream and citrus, adding a layer of cream and tang to the dish.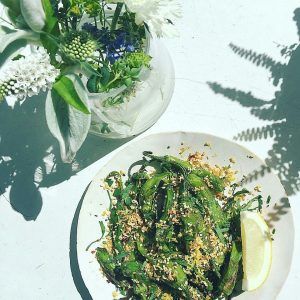 Our last bite of the evening was a daily special: Lemon Sesame Garlic Shishito Peppers. We later learned that the peppers were roasted in a wood oven, which explained their full, slightly smoky flavor. After polishing those off, we lounged for a while longer, drinking in the ambience and marveling at the beautifully dressed New Yorkers laughing and chatting around us. Eventually, and with much reluctance, we gathered our things and bid our waiter adieu. When we exited the restaurant, we found that the afternoon showers had cleared and blossomed into a warm, wet night with a bright moon. With happy hearts and full bellies, we traipsed off down the street.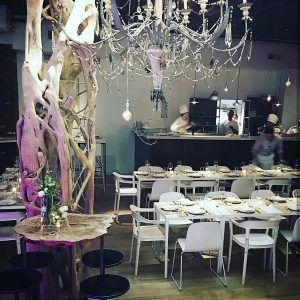 Thank you for a wonderful meal, ABC Kitchen! We'll be back…
Images via Ace Natural + instagram @abckitchen