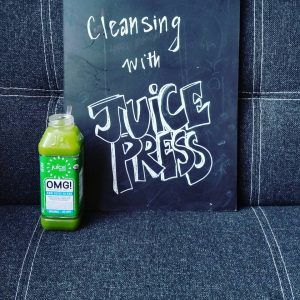 Last week, we were lucky enough to try a customized juice cleanse with Ace customer Juice Press. Touted as health boosters akin to secret serums by celebrities like Miranda Kerr, chefs such as Adam Geringer, and designers like Alexander Wang, Juice Press's drinks are far from underappreciated…but that doesn't mean we'll ever stop singing their praises!
While Juice Press offers multiple standard cleanses such as the Yoga For Bad People Cleanse and the NYC Cleanse, we were excited by the idea of working with JP's in-house nutritionist Alex Jay to design a 3-day program tailored to our own personal preferences. The outcome? 18 cold-pressed juices chosen specifically for our body's needs…which also happened to be delicious, colorful, hearty, and bursting with USDA certified organic, raw, 100% vegan ingredients!

Day 1: We started out by trekking to the Brooklyn Heights Juice Press location, where we picked up the 6 juices that constituted the first day of our cleanse. Because Juice Press believes in creating products that are as alive, fresh, and nutritious as possible, they do not extend the shelf life of their juices by using high pressure pasteurization (HPP). As a result, we ended up making two trips to the nearest Juice Press location to pick up our drinks–but knowing that it meant we were getting a better product made the jaunts well worth it!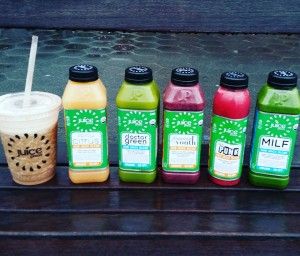 Before ambling home, we hung out at the nearby Brooklyn Promenade, watched the water, and surveyed the lineup for our first day: the coffee-laced Harvey Wallbanger w/ the Works, a fiery Spicy Citrus, the ginger-packed Dr. Green, a fun and fruity Fountain of Youth, the vibrant Pink Punk, and the raunchily named MILF (Mothers Interested in Learning Food/ Man I Love Fruit). Did the colorful parade of drinks make us drool a little? You bet!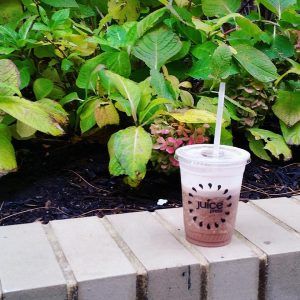 The first juice of the day happened to be our favorite of the whole cleanse: Harvey Wallbanger w/ the Works. Made with cacao, coffee bean, banana, and almond milk, this decadent, creamy drink gave us the perfect kick to power through a busy rainy Monday. We also love the fact that Juice Press only uses fairly traded organic coffee beans from Columbia "because they taste great and fulfill a larger social and economic mission." We couldn't agree more!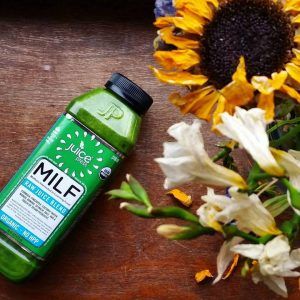 The first 24 hours tends to be the hardest part of a multiple day cleanse. We certainly had that experience, but we were also surprised by how wonderfully thick and filling each of the drinks were. MILF, another favorite, was our last juice before bed. Packed with kale, banana, pineapple, and mango, this extra-fruity juice was unnervingly yummy and it kept us satiated through the night!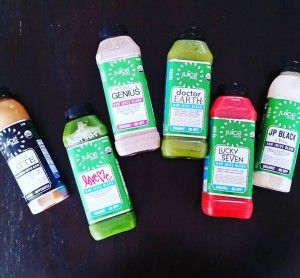 Day 2: The 2nd day of our cleanse was admittedly quite a bit easier than the first. It also brought us lots of new tasty juices. We began our day with another caffeinated drink, Almond Latte. Thick, gritty, and boasting a rich, nutty coffee flavor, Almond Latte surprised us in the best of ways. We followed that winner with the kale-heavy Love Me. We also got a kick out of slurping the crazily named F**ing Genius, which was packed with blueberries, replete with protein, and boasting sweet little pearls that melted in our mouth. Dr. Earth (sassy cousin to Dr. Green) came next, followed by the bright red, gingery Lucky 7. We capped our day off with a milky, chia-filled JP Black Chia. Our professional opinion? The juices that constituted the second day of our cleanse were a huge success!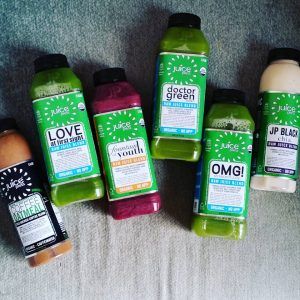 Day 3: Our food cravings had subsided greatly by the last day of our cleanse and we wondered whether chewable food would ever again hold the same appeal. Glancing over the last 6 juices, we were glad to see a few newbies mixed in with our recently discovered favorites: Coffee & Oatmeal, Love At First Sight, Fountain of Youth, Dr. Green, OMG!, and JP Black Chia.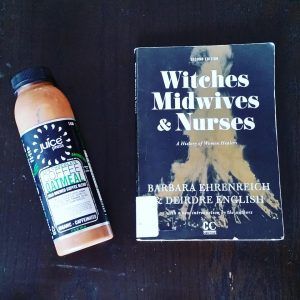 We couldn't get enough of the Coffee & Oatmeal (made with raw chocolate). As you've probably noticed, another great thing about Juice Press is that–unlike many cleansing programs–they don't force you to give up your morning caffeine fix. On our third day, we sucked down Coffee & Oatmeal greedily while doing some light morning reading and it gave us just the energy we needed to kickstart our day.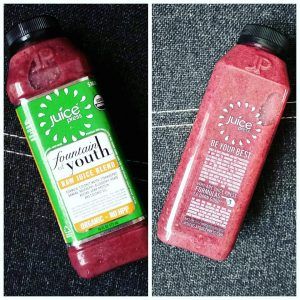 Around midday we cracked open Fountain of Youth, which was perfectly sweet, bursting with banana, and so thick that we likened it to a juice-soup when boasting to a (supremely jealous) friend.
Another favorite was Dr. Green. Filled with kale, ginger, red apple and lemon, it also contains the vegan probiotic "Proviotic." Juice Press explains, "top scientists believe that if [Proviotic] is added to unpasteurized juice it will serve both as a natural preservative capable of inhibiting 'bad' bacteria and as a way to replenish the healthy bacteria found in our bodies." Yes, please!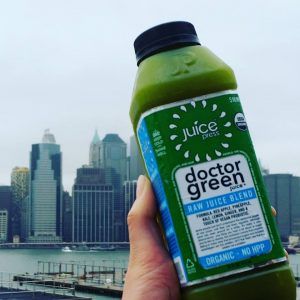 We ended our cleanse with happy hearts and healthy bellies. Our supreme gratitude goes out to our awesome customer Juice Press! Thank you for creating such yummy, nutritious products.
Interested in trying a Juice Press cleanse? Check out their structured cleanses here or create your own…just walk into any of their stores, grab 6 juices that look delicious to you, and start slurping! Please note that cleansing is not for everyone and part of being a healthy, happy, responsible person is listening to your body…you're the only one with the unique privilege of being in your own skin. Good luck!