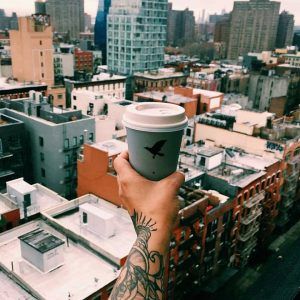 Hello hello! We bring good news on this lovely sunny New York City morning. Ace customer and longstanding NYC coffee establishment Irving Farm Coffee Roasters just opened a new location on the Upper East Side, joining the ranks of a handful of locations already sprinkled throughout the city. Irving Farm is a special business indeed; in 1996, two college friends opened a "tiny neighborhood café on Irving Place in Gramercy Park." Over the last 20 years, the business has flourished and Irving Farm  is now known for its amazing coffee and ethical business practices, implementing "a green coffee buying program that focuses on direct relationships with farmers, sustainable practices, and a philosophy of quality over quantity." Irving Farms also offer homemade, locally-sourced lunches, classes addressing the history, art and craft of coffee, as well as special events! We recently spoke with Liz Dean, Irving Farm's Director of Retail, to get the full scoop. Read on…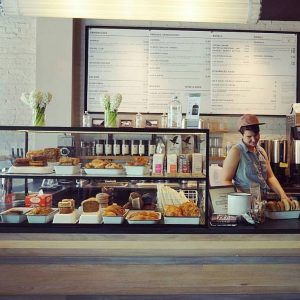 Congratulations on the opening of Irving Farm's 7th location! What makes this new spot different than the others?  
As of now, the space is the largest of all of the Irving Farm cafes. We do have a commissary kitchen that we hope to use down the road for more in-house production.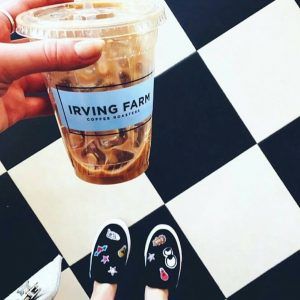 Can you tell us a bit about why Irving Farm is excited to be on the Upper East Side?
We are excited because there aren't a lot of coffee options nearby–to find good coffee you have to walk quite a few blocks out of the way. People have already been incredibly appreciative of us being there, and we're just thrilled that we've been able to fulfill the need for great coffee for the local community.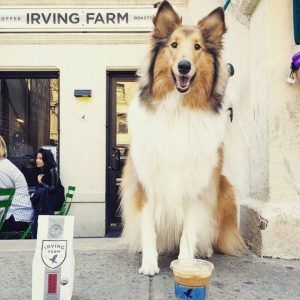 How long has this been in the works?
We began construction this winter, so thankfully not super long!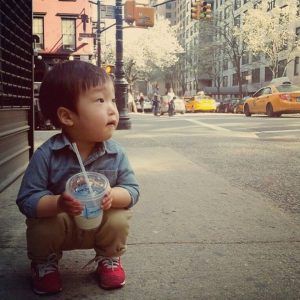 Wow that was quick! How is it going so far?
So far, it's been great… almost too great [laughs] because we were incredibly busy for our first weekend which was a little challenging as we are still smoothing out some of the processes. I am incredibly fortunate to have an incredibly hardworking team of staff at my side, though, and they've met every challenge head on and with a great attitude.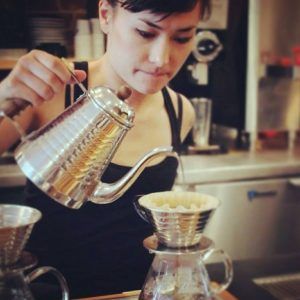 That's amazing! And–pro tip for customers–what are your most popular coffees, pastries, and sandwiches? 
People love our house blend coffee, but I think more and more people are getting excited about single-origin coffees, too. We have some really nice coffees on pour over right now. You also can't go wrong with an espresso-based beverage–lattes and cappuccinos are very popular, especially because we also use really great milk from Battenkill Creamery. Our pastries come from local bakeries all over the city–Bien Cuit, One Girl Cookies, Ovenly, Colson Patisserie, The Good Batch, Megpies, etc.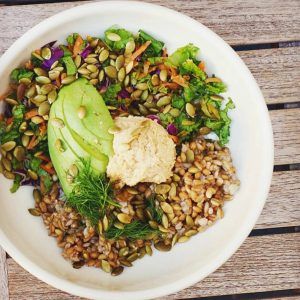 Do you offer vegan and gluten-free items?
We try and offer something for everyone so we try and have some vegan and gluten-free options, as well. Our bestselling food items are breakfast sandwiches, of course–can't beat a Bacon, Egg and Cheese Bagel!–but we also have healthier options like our "Super Freek" salad which features freekeh, hummus, a mixture of baby kale, golden beets, red cabbage, and topped with pepitas and some sprigs of dill.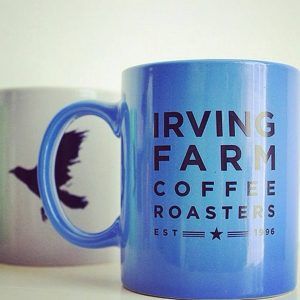 Thank you, Liz! Irving Farm's new spot is located at 1424 3rd Avenue. Stop in for a visit! Maybe we'll see ya there…
Images via Instagram: @irvingfarm