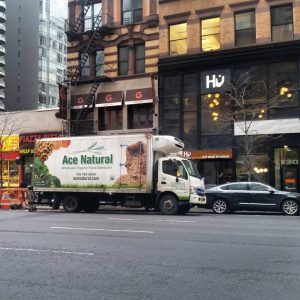 Last week, while on our way to Central Park, we found ourselves right in front of Ace customer Hu Kitchen's Upper East Side location! Hungry and excited to try Hu's renowned food, we waltzed right in.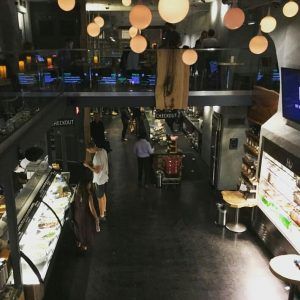 Hu Kitchen was founded by siblings Jordan Brown and Jessica Karp, along with Karp's husband, Jason. Says Jessica of her pre-Hu lifestyle: "I ate 100-calorie packs–I didn't care as much about the ingredients. Then when I had my daughter, when she started eating food, I did not want chemicals in her food which in turn forced me to address the question–what am I putting in my body?" While the three of them had no experience in the food industry, hailing from real estate development and finance backgrounds, they soon learned about paleo eating, were awed by the personal results, and decided to open a restaurant. Says Jessica: "At the end of the day, we believe in clean and real food. Trust the food. Trust the ingredients. We take a lot of pride in our work, and we will never sacrifice the taste."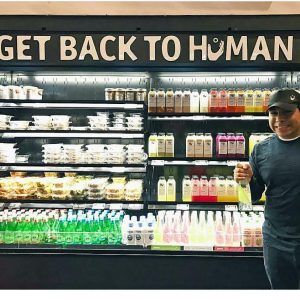 Hu Kitchen stands for "Human Kitchen" and their mottos–"Get back to human" and "Be better than 'fine'"–illustrate the founders' focus on paleo-inspired grub, a diet that centers around the food that the cavemen were thought to have consumed. This means that Hu uses organic komboucha, tea, eggs and poultry, pure non-dairy milks, wild fish, house-made bacon, grass-fed beef, quality sweeteners, and fair-trade organic coffee. They pride themselves on never adding "weird ingredients" to their delicious food, so you won't consume gluten, soy, refined sugar, or chemically decaffeinated coffee while dining at Hu!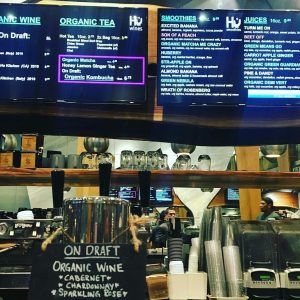 Both Hu Kitchen's Upper East Side and Union Square locations have so many delicious offerings that they had to create stations. Hu's Liquids Bar is replete with juices and smoothies, as well as organic coffee, tea, wine, and kombucha. They even have organic wine on draft!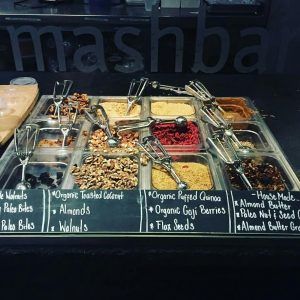 Next up is the Mash Bar, which boasts "customizable plant-based puddings, creams and toppings." Customers can choose from bases, such as dairy-free organic chia pudding, and then add as many toppings as they desire, including house-made granola, nuts, and fresh berries.
In addition, Hu offers a Bakery (stocked with treats made without grain/gluten/dairy), a Market (self-described as a "Hu-approved curated collection of small-batch artisanal foods as well as Hu's own specialty packaged goods"), a Cold Case (featuring an assortment of freshly-made deli salads, grab-and-go items, and crowd favorites by the pound), and a Hot Line (where diners can grab hot entrées and sides, such as their famous Rotisserie Chicken or Rotisserie Pineapple freshly drizzled with cashew cream).

Hu is also famous for creating their own line of stone ground dark chocolate, made with fair-trade/organic cacao. The chocolate was originally created because Jessica, Jordan, and Jason couldn't find any chocolate that fit their food philosophy and was delicious enough to use for their baked goods. Hu's bars come in innovative flavors like Almond Butter + Puffed Quinoa Dark Chocolate, Crunchy Banana Dark Chocolate, Cashew Butter + Pure Vanilla Bean Dark Chocolate, and more. Many of their flavors are paleo-friendly and all are vegan. The bars are made without dairy, soy, GMOs, refined/cane sugar, emulsifiers, or sugar alcohols.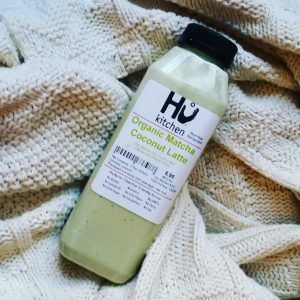 With so many options, it was difficult to decide what to order. Because it was that strange post-breakfast, pre-lunch time of day (oh, there's a name for that, you say?) we decided to grab a hearty snack: an Organic Matcha Coconut Latte as well as a No-Yo Parfait, complete with fresh berries and house-made granola. It was a strangely warm and gorgeous day for February, so we took our snack to the park.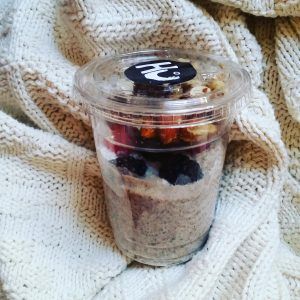 The latte was thick and creamy, the parfait rich, spiced to perfection with cinnamon, and oh-so-good. it also kept us full for much longer than we'd ever dared to imagine!
Hu Kitchen, thank you for a delicious meal! We'll be back…
Images: @hukitchen + @acenatural