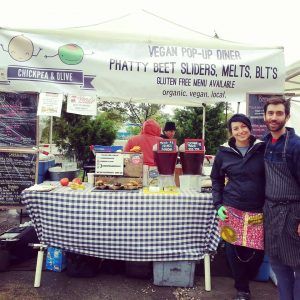 Want to get the scoop on how to run a successful vegan pop up food business?  Danielle and Daniel, the dynamic duo behind Ace customer Chickpea and Olive–famous throughout the 'Burg and beyond for their Phatty Sliders, Melts & BLTs–first got the idea of opening a vegan pop up after touring Smorgasburg in April 2012 with their trusty wonderdog, Kaya. When they realized that there were was not a sole veggie burger in sight (much less a vegan option) they began recipe testing and came up with their delicious chopped beet product within the month. The couple now have 7 staff members–mostly former sous chefs from dell'anima, where the two of them met–and can usually be found at The Smorg on Saturdays and Sundays, as well as various other catering events and food festivals. They cite the best part of vending as "hanging out in the sun and eating great food all day with our buds, listening to loud music, dancing like gypsies–and we sleep so hard afterwards. Plus we get to feed people really good vegan food and change perspectives. That's cool, too!" Read on to get the beety deets on running a healthy pop up business!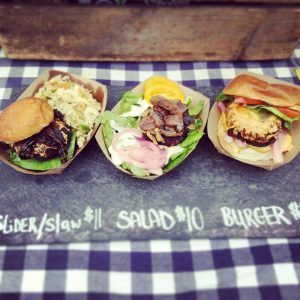 What does an average day look like for you guys? 
We get up around 6:30, pack our equipment up, fly to the kitchen and pack our coolers to the gills. Unpack and repack the car, strap the largest cooler to the roof with bungee cords and race down the Brooklyn Queens Expressway. When we get to the market we meet our staff, unpack the car, and move into our space with a handtruck that has broken and been welded back together three times! We assemble the tent, lay a tarp, and set up our tables and our two portable stoves topped off with forty-pound griddles to form the perimeter of our kitchen/diner counter. From their it's all grilling beets and slicing heirloom tomatoes to get ready while Danielle dangles from the tent to hang our banner and our menus, and makes the front table look all pretty.
Wow! Sounds like a whirlwind. What are your "days off" like? 
Days off usually involve planning the rest of the week, placing orders for produce and bread and dry goods from Ace Natural, booking gigs whenever possible, before escaping to a quick yoga class at Jivamukti. Then we throw together some kind of one-pot wonder and salad, chow down, and tune into WNYC. Sometimes we go to rock shows, too.
What are the tools that you could not function without?
Hmmm…we have a trusty rusty pocket knife we use for opening everything. Clamps! You gotta have clamps. And bungee cords, lots of bungee cords. Also tents are kinda like sails without a boat, so you need anchors, otherwise they just fly away. Our dream invention would be an Iron Giant!
Have you found a community among NYC pop up vendors?
Big time. Most of our friends are fellow vendors these days. We all bail each other out every day. If you forget napkins, I got your napkins. I run outta lettuce, somebody's got some, and I can usually trust that it came from a green market.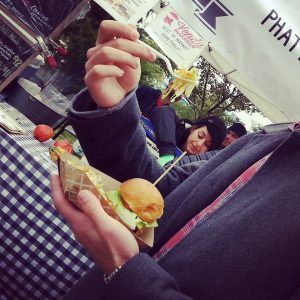 What are your personal favorite items off the menu?
Dan: Phatty Melt with Mushrooms, and the Polka with Cheese. Plus Blood Orange Hibiscus Tea.
Danielle: B.L.T. and the Calexico Burger. Coconut Black Tea.
Both: Side of slaw!
What has been your most surprising success with Chickpea and Olive?
We did a catering event for Citigroup once and Bloomberg was a guest. Hey Mike, if you are out there reading this, that Fingerling Baked Potato Pipe with Beet Bacon and Cashew Sour Cream? That was us.
Where do you see C&O in 10 years?
Dan: Competing with Shake shack.
Danielle: A line of packaged products and fast casual restaurants. We wanna have outposts all over the place! You hear me St. Louis? Here we come Chicago!
What is your proudest C&O-related moment?
Watching the sun set over lower Manhattan every weekend. Knowing we served hundreds of people food made with love that is good for them, the animals, and the planet. We like to say we are changing hearts and minds one meal at a time.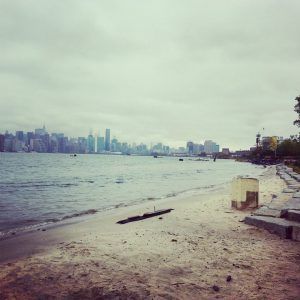 Thank you Danielle and Daniel! If you're interested in having them cater your vegan Thanksgiving, check out their menu here. To find out where they're popping up today, follow them on Twitter & Instagram, or like them on Facebook. If you're still jonesing for more on this innovative pair, check out this amazing piece from NPR's "All Things Considered" on vegan masculinity featuring Daniel!
 Images: Luna Adler