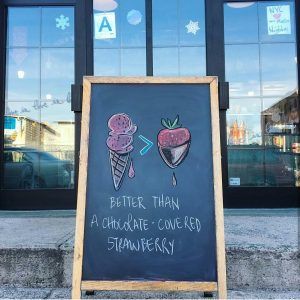 Valentine's Day is right around the corner (okay, okay, it's tomorrow) and our customers have created V-Day-themed menus, baked goods, and even ice cream cakes perfect for celebrating the big day. Keep reading to find out where you and your honey can enjoy a pink-themed prix fixe dinner, pick up a loaf of Chocolate Cherry Bread, and more….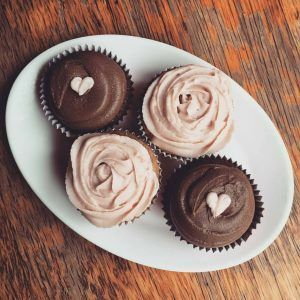 Celebrate the special day with a prix fixe dinner for two at Angelica Kitchen. Your 100% plant-based meal includes an appetizer to share, two entrées, two desserts, and a glass of red or white wine. Plus, there are no reservations required! Angelica Kitchen is also holding a bake sale, so if homemade, organic, fair trade, vegan goodies are your jam, you should hop on it. Among the offerings are a bag of assorted cookies, chocolate lollipops, cupcakes, and a White Chocolate Truffle Tart. Yum!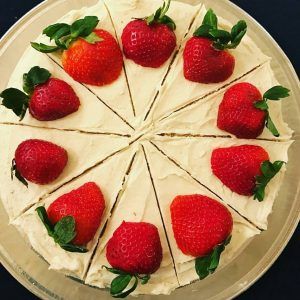 Rockin' Raw is another amazing Ace customer offering a special V-Day meal for lovers. This innovative restaurant serves organic, gluten-free, plant-based Peruvian Creole food and their Valentine's menu is mouthwatering for sure. Stop by to try their Cashew/Hemp Cheez Ravioli, Fettuccine Alfredo for two, Chocolate Fudge Cake with Cherry Almond Caramel, and much more!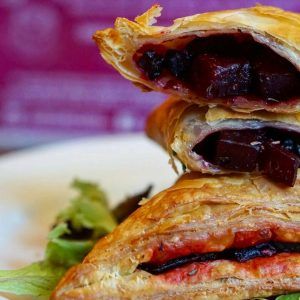 The Organic Grill is also offering a prix fixe dinner for two. On the pink-themed dinner menu? Pink Cauliflower Soup, Rosemary Portobello Carpaccio topped with toasted nuts and arugula, and Beet Wellington wrapped in a puff pastry served with roasted purple potatoes & roasted fennel and cherry tomatoes. The dessert menu includes a Dessert Cheese Board for Two (think vegan blue cheese, vegan lavender blueberry chèvre, dates, homemade jam, and more) plus Chocolate-Covered Strawberries! Finish your evening off with a cup of organic tea or coffee.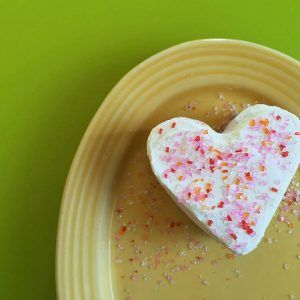 Ample Hills is yet another Ace customer going all out for the big day because "Nothing says, 'I love you' like ice cream [and] ice cream in the shape of the heart says, 'I really love you.'" Ample Hills' mini heart-shaped ice cream cakes are handmade with a brownie base, fudge layer, choice of Be Mine or Dark Chocolate ice cream, and topped with whipped cream and pink sprinkles. Pre-order yours today!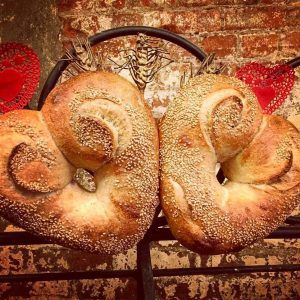 Amy's Bread is famous for their seasonal goodies and, true to form, these ambitious artisanal bakers are going all out for Valentine's Day. Choose from a mouthwatering array of tarts (including a Chocolate Caramel Tart and a Passion Fruit Tart), as well as cakes and cookies (we are very intrigued by the Olive Oil Cake), and breads (our favorite is the Chocolate Cherry Bread). If none of the aforementioned sweets sound right to you, we're pretty sure that nothing says "I love you" like a batch of Amy's Bread Valentine's Day Cookies!
If you're looking for high-quality chocolate for your sweetie, Ace customer Hu Kitchen may be your best V-Day bet! Surprise your love by ordering a bar of their organic, fair trade, stone ground dark chocolate (vegan/paleo options available). These GMO-free chocolate bars are made without cane sugar, refined sugar, dairy, or gluten, and come in flavors like Cashew Butter + Vanilla Bean, Almond Butter + Puffed Quinoa, Crunchy Banana Dark Chocolate, and more!
We hope you've enjoyed our 2017  guide to Valentine's Day! Let us know if you end up celebrating with an Ace customer…but however you choose to celebrate and whomever you choose to celebrate with, we hope you have a fabulous day!
Images: courtesy of each customers' Instagram