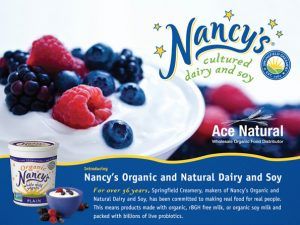 Hello there. Did you catch our recent post, The Story of Nancy's Yogurt? If not, we suggest checking it out! Nancy's Yogurt is made by Springfield Creamery, a family-owned operation that was founded in 1960. By 1970, owners Chuck and Sue Kesey had created the renowned Nancy's Yogurt, which we're excited to announce is the subject of our latest promotion! Nancy's Yogurt is packed with billions of probiotics and free of cane sugars. Nancy's Organic Yogurt is made with organic milk from local family farms and live cultures, while Nancy's Organic Soy Yogurt is made from organic soy milk and live cultures.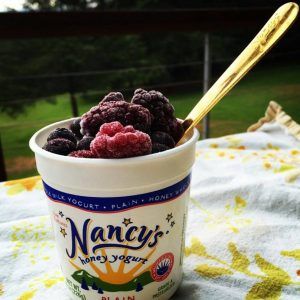 We're also excited to be partnering with Springfield Creamery because they, like us, are dedicated to running their business in a way that treads lightly on the environment. We especially love that all Nancy's Yogurt products arrive in reusable containers made of BPA-free plastic!

Right now, we are offering 50% off the first case order of any item that is new to you, the customer. Choose from a variety of flavors and sizes, including Organic Plain Soy Yogurt, Organic Whole Milk Plain Yogurt, Organic Nonfat Plain Yogurt, and Organic Nonfat Vanilla Yogurt. If you'd like to sample Nancy's Yogurt, please call your Ace Natural Sales Rep: (718) 784-6000. To find out more about this offer, click here.
Thank you…and enjoy!