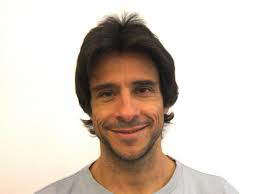 Meet Ace's Corporate Social Responsibility Director Alberto Gonzalez, who joined our team last year. Half Italian and half Spanish, Alberto was born in Argentina and lived there until moving to New York 9 years ago. Some of you may know him as the guy who conceived and started GustOrganics, New York's first certified organic restaurant. He wants to be very clear however that he's a businessman, not a cook: "If I cooked, people would make lines to kick my face," he laughs. "No, no, no, I don't want to get hurt." While he's still the main shareholder at Gusto, he is now full-time at Ace and we are so glad to have him!
Is there a food that you'd eat every day if you could?
Empanadas. The meat empanadas or beef.
Where are the best ones in NY?
GustOrganics; I can say that with no hesitation. The empanadas are amazing.
Do you have a favorite type of cuisine?
Yes. Oh, so many different types. It is so hard for me to make a decision. But I would say…. (long pause). Let me think for a minute.
(Laughing) Okay, take your time.
I really appreciate Italian cuisine because you can get a lot of flavors with simple and healthy ingredients and its very playful. But unfortunately that's not the kind of cuisine you find in NY that often. I'm talking about the real Italian cuisine, and I particularly like the food in the south part of Italy although I find spending time in the north more enjoyable. 
Do you prefer sweet or savory food?
(Laughing) Oh my god…okay, so this is crazy. I'm kind of a schizophrenic, right? So the reality is that I am crazy about sweet stuff but if I had to make a decision to just quit one of them, I would quit sweet. So I guess savory is the main thing, but I am so crazy about sweet stuff. Like a little kid. I mean, I eat more sugar than my four kids. And I tell you, none of them eat as much dulce de leche or ice cream or…But savory, I can't live without it.
And what are some of your hobbies?
I've been skiing all of my life so it's a big part of my life and my kids ski, the whole family, we are skiers. So that's one. And I'm a soccer fan, as are most Argentinians. I watch as much soccer as I can. I go to the stadiums, I take the kids. They play and I did the coach training myself in order to give better advice to my sons. I used to play a lot of golf but I haven't been playing recently.
Is there a certain type of food that you feel will ruin any dish?
Something that I hate? The cilantro. (Groaning) Oh my god. (Distressed) I don't want to see cilantro in anything. That's a weird taste. And everyone likes cilantro and I hate it.
(Laughing) I understand. And what are some of your favorite places to go out to eat in NY?
Oof, that's, that's…there are so many. I will say that I like to go to Ovest to eat pizza. This is from Luzzo's—they opened this cool little nook on the west side and its way closer to my house so I go there often. It's the pizza of Naples, it's a great pizza. Then ABC Kitchen is a place that I like and I go often. I really think that they have a great combination. And Bar Pitti is a place that I go very often.
What's the strangest dish that you've ever tried?
It's the sea urchins. Actually a friend of mine took me in Chile. It's a funny thing…we were leaving Lago Ranco. We spent 4 or 5 days in the south of Chile with a bunch of friends and then he was saying, "Oh we've got to try this, we've got to try this." And then we couldn't try it and the day that we were leaving we needed to take a plane very early in the morning and he just had the taxi drive there–it took 45 minutes. We arrived at 8 a.m. and the guys were not ready, they had to prepare it. It was such a terrible thing. (Groaning) In the morning, for breakfast, oh my god. (Laughing) I will never…that was very strange, very strange.
(Laughing) That sounds bad.
Yeah. Every time we get together we talk about it. "What were you thinking? Instead of taking people to get a croissant with a coffee you take them to eat a sea urchin at 8 a.m.? (Laughing). It's a bad way to wake up. Oh my god. But I ate it. I try—and I encourage you to do the same–everything, everything, at least once I'll try it. Unless it's going to really do something wrong to me, I'll try.
Are there any surprising facts about yourself that you'd like to share?
About myself? I'm crazy about music, but a very particular kind of music. I love jazz but I like all kinds of music as long as it has three main things: it's played with real instruments, it has some improvisation, and it has solos. If you get me that three I can listen to Indian music and enjoy it all the way. When those three things are combined I tend to like it.
Alberto's Homemade Organic Flan
Ingredients:
12 organic eggs (distributed by Ace)
3 cups organic whole milk (distributed by Ace)
3 drops organic vanilla extract (distributed by Ace)
3/4 pound organic sugar plus extra (distributed by Ace)
Directions:
Crack the 12 eggs and place in a mixing bowl. Add the milk to the mixture along with the vanilla extract. Stir it up with an electric mixer for a few minutes. Take the extra sugar and put it in a saucepan to caramelize. Be patient, make sure it is spread evenly over the surface of the pan, and keep it over a medium light. When done, place a bigger pan with a lot of water in it in the oven, already heating at 400°F. Take the egg/flour/sugar/vanilla concoction and mix it again, this time until it bubbles–this will give it a fluffier, lighter texture. Pour the contents into the pan holding the caramelized sugar and place it in the oven, over the pan with the water. Keep it there for 30-45 minutes depending on the oven. Watch it and serve when ready!
Thank you, Alberto!! Readers, have you ever eaten sea urchin? Have you been to GustOrganics? Is there a special spot in NYC that you frequent when you're craving flan? Let us know by commenting below!
read more