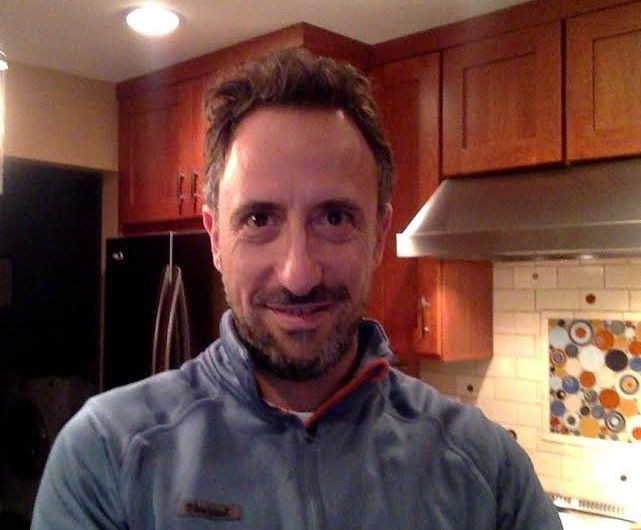 Hello folks and welcome to the second installment of our new series, Faces of Ace. Last month you met our blogger and newsletter writer, Luna Adler. This month, meet Ace CEO Tor Newman who has been with Ace for approximately 9 years. Not your average boss, Tor has a black belt in the Japanese martial art aikido, attended Berkeley College of Music, and used to play the saxophone in a funk rock band in NYC. Read on to learn more about Tor and for instructions on making his specialty dish, Pasta E Lentichhie.
 What was the last amazing meal you had at a restaurant?
Oh God (laughing). The last amazing meal? We went to our traditional family Christmastime Carmine's meal. We ordered the Pasta with White Clam Sauce and really delicious Carmine's Salad. The food is really good but it wasn't just the food, it was also the atmosphere.
You like to cook. Do you have a speciality dish?
Mainly it's been this lentil soup with pasta called Pasta E Lenticchie. It's hard for me to believe now, but I really hated all beans when I was a kid. My mother was always trying different ways of making them to get me to eat them and this soup was my first real introduction to beans or legumes of any kind that I liked. I make this dish for my family all the time…it's really healthy comfort food and it's especially good for the cold months of the year.
How old were you when you started cooking?
When I was 9 and my brother was 12 and my sister was 15 my mom decided that we all needed to help out more so we started really, really cooking. I'm sure I learned things before that age and my sister and brother learned well before those ages but [that was when] we actually started cooking for the family. We would pair up with either my father or my mother and make dinner for everyone.
How did you come to be interested in the food business?
Well I come from a pretty food-oriented family. My mother was very much into healthy eating and she was 100% Italian, so food was very much a part of our family culture. And my father's the same way. He comes from a Russian Jewish background and food was always a big part of the culture. We've always been very interested in food and I'm fascinated with restaurants…I always have been since I was a little kid. And I love eating out–all kinds of different cuisines–eating interesting and unusual things and seeing how different people make different things. But I also really love serving and selling healthy food that tastes great. That's a big thing, a double whammy for me.
One place you want to travel but haven't yet?
Italy, everywhere in Italy. I'd also like to go to Thailand.
What different types of diets/food ideologies have you tried?
I have tried most things. I've been vegan, I've been just vegetarian, I've been vegan and gluten-free. (Laughing) I have been whatever it's called when you pretty much eat whatever and don't worry about, you know, even the quality of food that you're eating. I've tried pretty much all of the different things.
What was your first foray into the natural food industry?
In 1990 I got a job working in a now defunct health food store called Sunrise Natural Foods on Houston St. I was the juice bar guy.
In the early '90s you were the general manager of Integral Yoga Natural Foods in Charlottesville, Virginia. You started a café there, right?
Yeah, that's true. I started Veggie Heaven, a café food service. I've always been interested in restaurants and cafés, foodservice. That's a big draw there for me.
What would be a perfect Saturday for you?
A perfect Saturday is to wake up on the later side, like 8:30, 9:00 (laughing) and it's about 50, 55 degrees out. Go for a nice long run. Come home and hang out with my family. Maybe play with my kids, do some reading, maybe do some work. And then go out to dinner with my wife and friends.
1 1/2 cups dry organic green lentils (available at Ace)
6 cups filtered water
3 cloves organic garlic, chopped
1 medium organic onion, chopped
2-3 medium organic carrots, diced
1 stalk organic celery, diced
1 teaspoon dried organic basil
1 teaspoon kosher salt
1 can 14 oz. organic diced tomatoes
1 tablespoon organic extra virgin olive oil
1 cup organic parsley (preferably Italian, but curly is fine too), chopped
1 pound of your favorite flat-cut of pasta (Tor uses either spaghetti or linguine)
Parmesan and/or Romano cheese to taste (optional)
In a stock pot, on medium high, heat the oil and add the basil and salt for a minute or two. Then add the garlic and onions and sauté for two minutes. Add the celery and carrots. Sauté until the onions are translucent and the carrots start to get soft. Add the lentils and stir until all ingredients are mixed well and the lentils are hot. Add the water and bring to a boil (about 10 minutes). Then lower the heat and simmer for 20 minutes allowing the lentils  to cook about halfway.  Add the tomatoes and bring back to a slow boil. Continue to cook until lentils are soft (approximately another 20 minutes). When the lentils are done mix in the parsley and let sit for 5 minutes. While the soup is cooking, in a separate pot, boil the pasta until it is just a little firmer than al dente. Drain and put in a big pasta/soup serving bowl. Combine the soup and the pasta and serve with the cheese as a topping. Enjoy!
Thank you, Tor! Hey readers, have you tried Pasta E Lendicchie before? How do you make it? How old were you when you started cooking? Do you practice aikido or play the saxophone? We want to know! Leave a comment below!
read more