Thanksgiving tends to be a joyous occasion despite its questionable genesis–but let's face it, there aren't many American holidays with 100% non-questionable, politically correct origins (Columbus Day, anyone?). So despite its birth, we can all agree that Thanksgiving is the perfect time to wear stretchy clothes, enjoy a delicious meal with loved ones and pretend you care about a sport which may or may not actually exist for you the other 364 days of the year. With all of this focus on eating and family, however, it's easy to get wrapped up in the stress of trying to prepare the perfect meal. As Rita Rudner said, "Most turkeys taste better the day after. My mother's tasted better the day before."  If you fall into the same category as Rudner's mother, never fear. Ace is here!  We have compiled a list of our beloved customers who are offering delectable vegetarian, vegan, and raw Thanksgiving dinners for health-conscious, food-loving New Yorkers like you!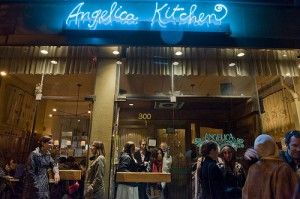 Long-time Ace customer Angelica Kitchen, known for its "organic plant-based cuisine" is offering a five course prix fixe menu for the special day. Do you lick your lips at the thought of a Warm Roasted Shiitake Mushroom appetizer baked with creamy herbed tofu ricotta filling? Are you intrigued by the idea of a Savory Autumnal Soufflé with butternut squash, millet and tofu cheese topped with quince and red marmalade? If so, this may be the spot for you! We suggest you top the meal off with their Roasted Bosc Pear Mousse made with black pepper cake and pomegranate drizzle and call it a night.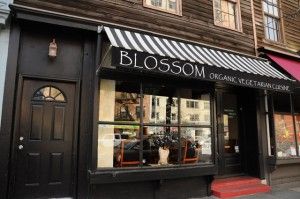 Blossom, renowned for its perpetually delectable vegan cuisine, is also offering a Thanksgiving 2013 menu with a fixed price. Diners can choose from four starters, which include Candied Yam Soup made with creamy sweet potatoes, toasted maple marshmallows, and smoked pecans as well as a Parsnip Risotto composed of caramelized apples, lemon and parsley. Follow your starter up with a creative entrée, such as the Autumn Shepherd's Pie with grilled Tuscan Kale & Tomato Cream. If you still have room to accommodate dessert, try the Apple Cobbler, made with coconut crumble and vanilla ice cream.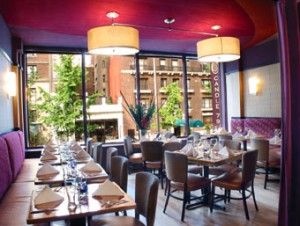 Candle 79, the self-described "vegan oasis" boasts a Thanksgiving menu which will keep both vegans and meat-eaters satisfied. Start off by diving into their Tri Colored Beet salad made with mache, haricot verts, roasted shallots and cashew cheese, drizzled with fig-kalamata olive vinaigrette. Next, choose from one of the colorful entrées. You can't go wrong with the House-Made Butternut Squash Gnocchi, composed of trumpet royale mushrooms, grape tomatoes, shallots, baby kale, canellini beans and broccoli, coated in basil-pine-nut pesto. The Almond Joy dessert is one of the many delicacies reserved for the brave; the decadent ensemble consists of chocolate and almond mousse, candied pumpkin seeds and berry coulis.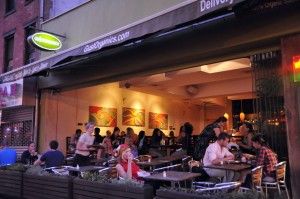 For readers who eat meat and wish to enjoy an organic, antibiotic and hormone-free turkey on the big day, GustOrganics, "the first and only certified organic restaurant in New York" is also proffering a special menu. For a fixed price (significantly less than most other establishments), diners can sit back and feast on roasted turkey with cranberry sauce, stuffing and sweet potato mash accompanied by a glass of wine–and all certified organic!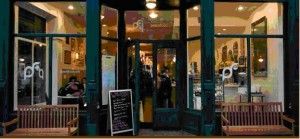 Peacefood Cafe, the vegan kitchen & bakery, invites diners to join them for a "compassionate Thanksgiving holiday."  For your starter, try the Vegan Crab Cake & Beet Salad made with soy protein, spice, roasted yellow beets, arugula, and goat cheese. For those who choose to eat raw, this place has an entrée just for you: the Raw Lasagna served with Kale Salad consists of zucchini, mushrooms, walnut cheese, spinach basil mix and tomato sauce, plus salad with kale squash, extra virgin olive oil and brazil nut parmesan cheese. Other dishes include a Peace Loving Lentil Loaf, a Pan-Seared Unturkey Cutlet for those who miss their meat, and Roasted Seasonal Squash. All entrées come with enticing sides, as well.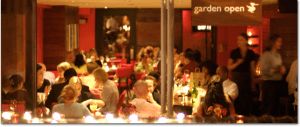 Pure Food and Wine, which serves raw organic food, is offering a vegan, gluten-free prix fixe menu for the 28th. Those who love fall cuisine should begin their meal with the Persimmon Apple Soup which boasts smoked almonds and pomegranate reduction. Follow that up with Maitake Mushroom with Figs and Heirloom Carrots made with turnips, radishes, port wine sauce, crispy fennel and mache. For dessert, try the Pecan Pie with White Chocolate Ice Cream complete with ginger and chocolate sauce. For those of you hoping for some classic Thanksgiving sides, order the pecan and herb stuffing, marinated portabella and wild mushrooms, or the cranberry sauce.
This holiday, we are thankful to live in a city which offers such a wide range of gustatory options that even on a day devoted to eating a very specific bird one can find countless other meals. Furthermore, Ace is proud to distribute to restaurants that provide such creative and healthy meals for all types of eaters. So, regardless of where you decide to celebrate, loosen your belt and enjoy–it's bound to be delicious!
Images (top to bottom): jwrkc via Flickr, Blossom, Candle 79, GustOrganics, Peacefood Cafe, Pure Food and Wine
read more